It's not every day you get to practice using machinery on an instructor. But one recent afternoon, that's exactly what two newly hired Temporary Nurse Aides (TNAs) got to do while going through their 20-hour training courses at Virginia Health Services' EEE Center.
The trainees were paired up with two seasoned VHS Certified Nurse Aides (CNAs) as they lifted instructor Nora Gillespie out of bed, into a wheelchair and then back into bed. The training was done at the Employment, Enrichment and Education (EEE) Center in Newport News, where Virginia Health Services onboards and trains new employees.
The hands-on experience allowed the TNAs to ask questions, experience the equipment and see how to avoid pitfalls, such as accidentally letting a patient's head or legs bang into the lift.
"If you let my feet hit there," Nora said, pointing to the equipment's base while swinging in the sling during the transfer lesson, "I have fragile skin, I bruise. And I'm going to let you know it."
"It's why this takes two people," Erica Donaldson said. She has been with Virginia Health Services for 21 years and is a CNA at Northampton Nursing and Rehabilitation Center. She also is now a Senior Ambassador, which means she will help oversee TNAs at her facility for two weeks before they acquire a full patient load.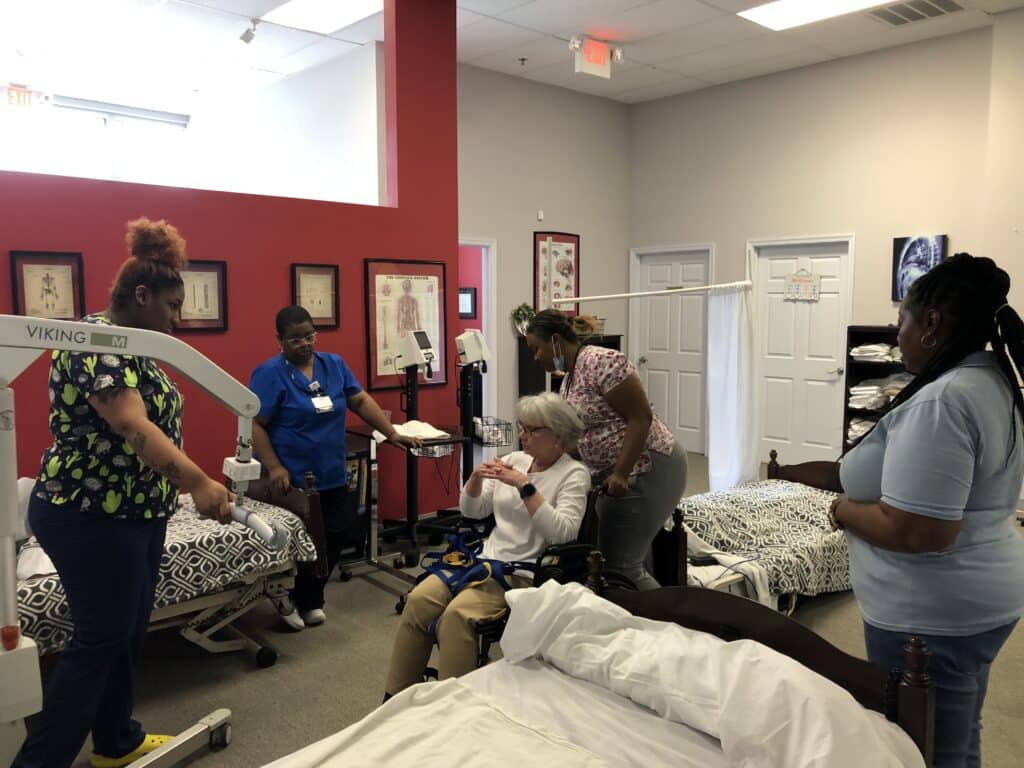 Ambassador program
Erica was working with fellow Senior Ambassador Tracy Moore, who is a CNA James River Nursing and Rehabilitation Center and has been with VHS for 24 years.
The Ambassador program was launched to reward seniority and help develop training and communication within the facilities and across VHS.
Erica and Tracy were helping Nora train Olympia Stephens and Koreen Hill. Olympia will join Erica at Northampton and Koreen will join the team at Coliseum Nursing and Rehabilitation Center.
"I love what we're learning," Koreen said.
Nora said the program has given long-time CNAs a chance to see what new hires are learning, which can better prepare them to train them on the floor and what areas to work with them on to improve their skills.
"It's good when the staff comes in to participate and give their insight," she said.
Transition to apprenticeship program
To help fill staff vacancies at nursing home facilities in Virginia, then-Gov. Ralph Northam allowed the hiring of Temporary Nurse Aides.
The goal is to get new hires trained and on the floor quickly, in addition to providing them with a facility mentor who will help shepherd new hires into the apprenticeship program. The earn-as-you learn apprenticeship covers the cost of a five-week training course that develops Care Assistants to Nurse Aides. The program also covers the cost of the certification exam to be a CNA.
The 20-hour training program is "intense and condensed," Nora said.
She says Virginia Health Services is showing through the program that it is investing to help the facilities staff properly. The TNAs are a "tremendous advantage," she said. It's also a stepping stone for the full CNA apprenticeship class.
"It's a win-win," Nora said.
Visit our Careers page and apply for the Care Assistant program today to join Virginia Health Services and be part of a team where training and experience are valued.