Thank you to the Virginia Health Services Nursing Team!
We are celebrating National Nurses Week (May 6-12) by thanking our entire nursing team and showing our appreciation for all they do!
We rely on our nursing team to build relationships with our Residents and patients to provide the best quality care possible.
To celebrate, there'll of course be food and other treats, plus additional appreciation opportunities during National Skilled Nursing Care Week, which comes on its heels May 14-20. VHS does what it can to recognize our nurses throughout the year.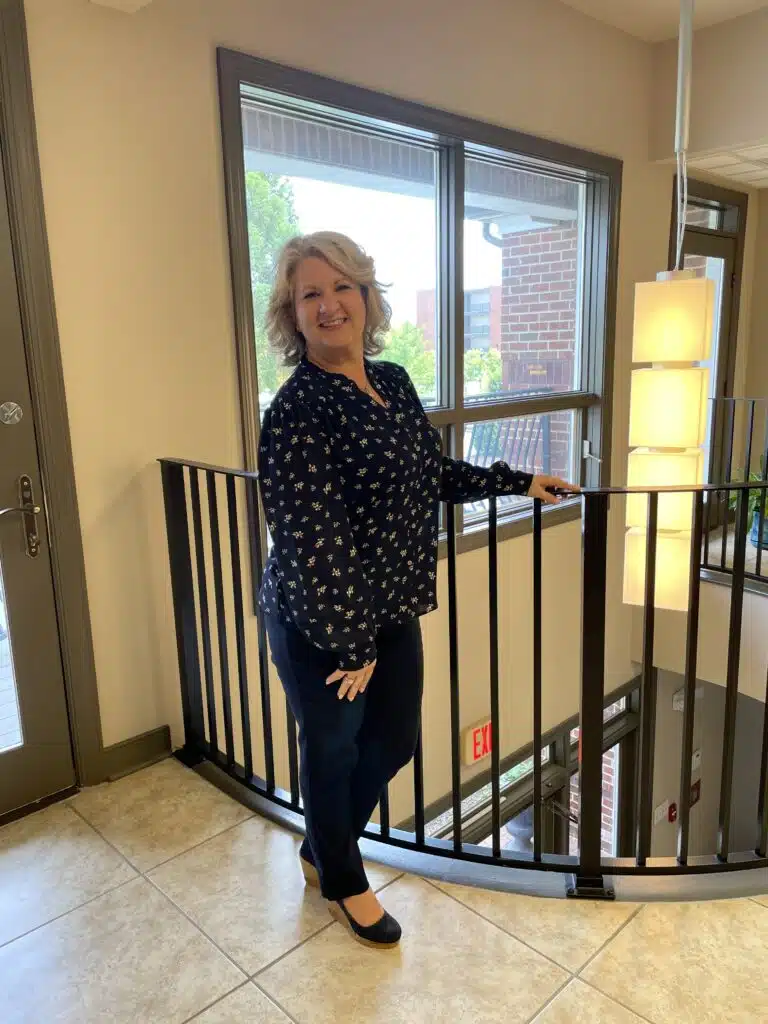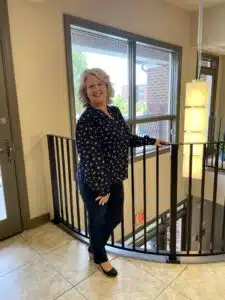 "Nurses often are underappreciated," says VHS Vice President of Nursing Rebecca Boyd. "And it's a hard job."
Not only are nurses caregivers in our communities, they are caregivers in their own homes and are the first call for family members seeking medical advice or opinions.
"You wind up being a resource to everyone. It's why we do what we do," Rebecca says. "We do care about people. Our nurses want to give of their time. When you give and you give, you kind of empty out.
"Our job is to fill our nurses back up and remind them what they do matters every day. They are making a difference. They're changing a life. Those small acts of kindness that half the time they're not even cognizant of, but it makes an impact and it has a bearing on someone else's life."
A little about National Nurses Week. The end date marks the birthday of the late Florence Nightingale. The week has been supported and promoted by the American Nurses Association (ANA) since 1896.
Why choose a nursing career in long-term care?
There are several advantages to choose being a nurse in a long-term care setting, Rebecca says.
"Long-term care in nursing gives you an opportunity to develop relationships with the patients – you can really make an impact," she says.
It's meaningful work – and one with many opportunities for career growth and advancement.
"In the hospital, you typically see patients briefly. It's quick in, quick out. … In long-term care, you have the opportunity to know the resident, to know the family member and make an impact in their life. If they're a skilled care resident, you help them get back to their home environment. Help them regain their confidence and skills they need to get back to their home environment. That's very rewarding for our nurses," Rebecca says.
"For our long-term residents, you can have the opportunity to make an impact and be there at the end of their life. That is very purposeful for staff. Families will remember something very small I did at their bedside 20 years, but it made an impact for them. I think that's why a lot of our nurses choose long-term care, because of relationships."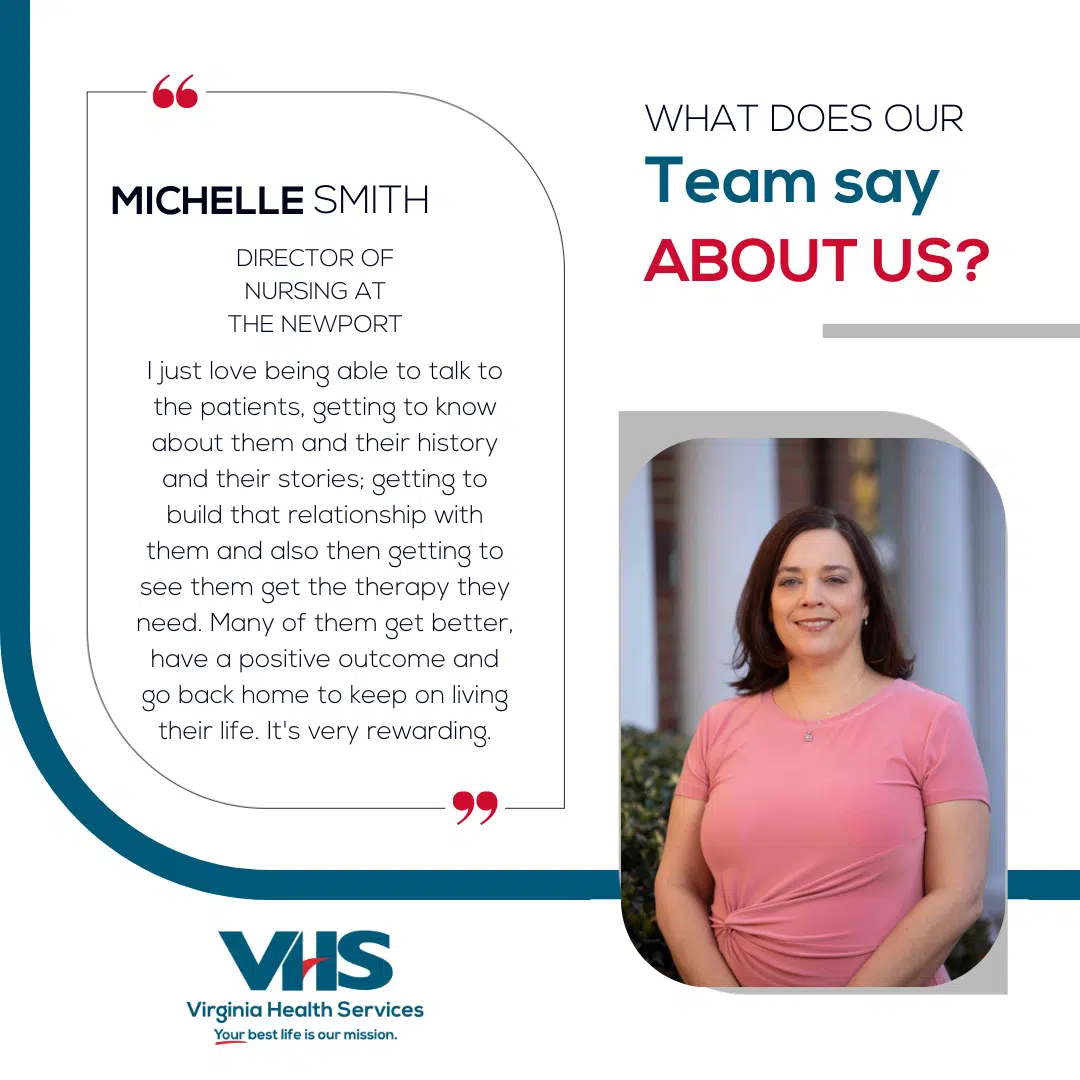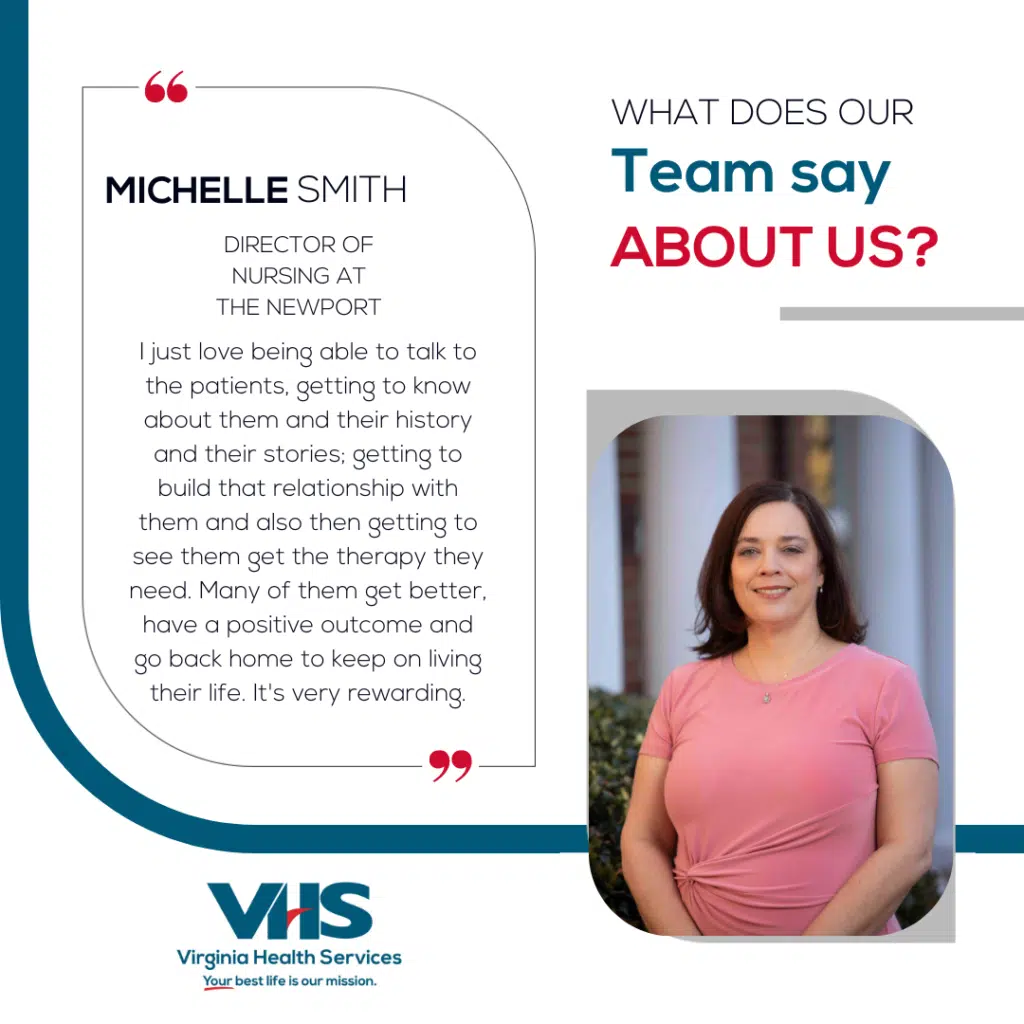 Nursing career paths with VHS
Virginia Health Services has openings for CNAs, LPNs, and RNs regularly. We also offer an earn-as-you-learn apprenticeship that graduates Care Assistants to Nurse Aides and covers the cost of the state certification exam to be a CNA.
Our CNAs spend a majority of the time with our nursing and rehabilitation centers' residents. They help get them ready for the day – or in the evening for bed, and to and from meals and activities. They are the eyes and ears for the nursing team to provide daily assessment of a patient's well-being.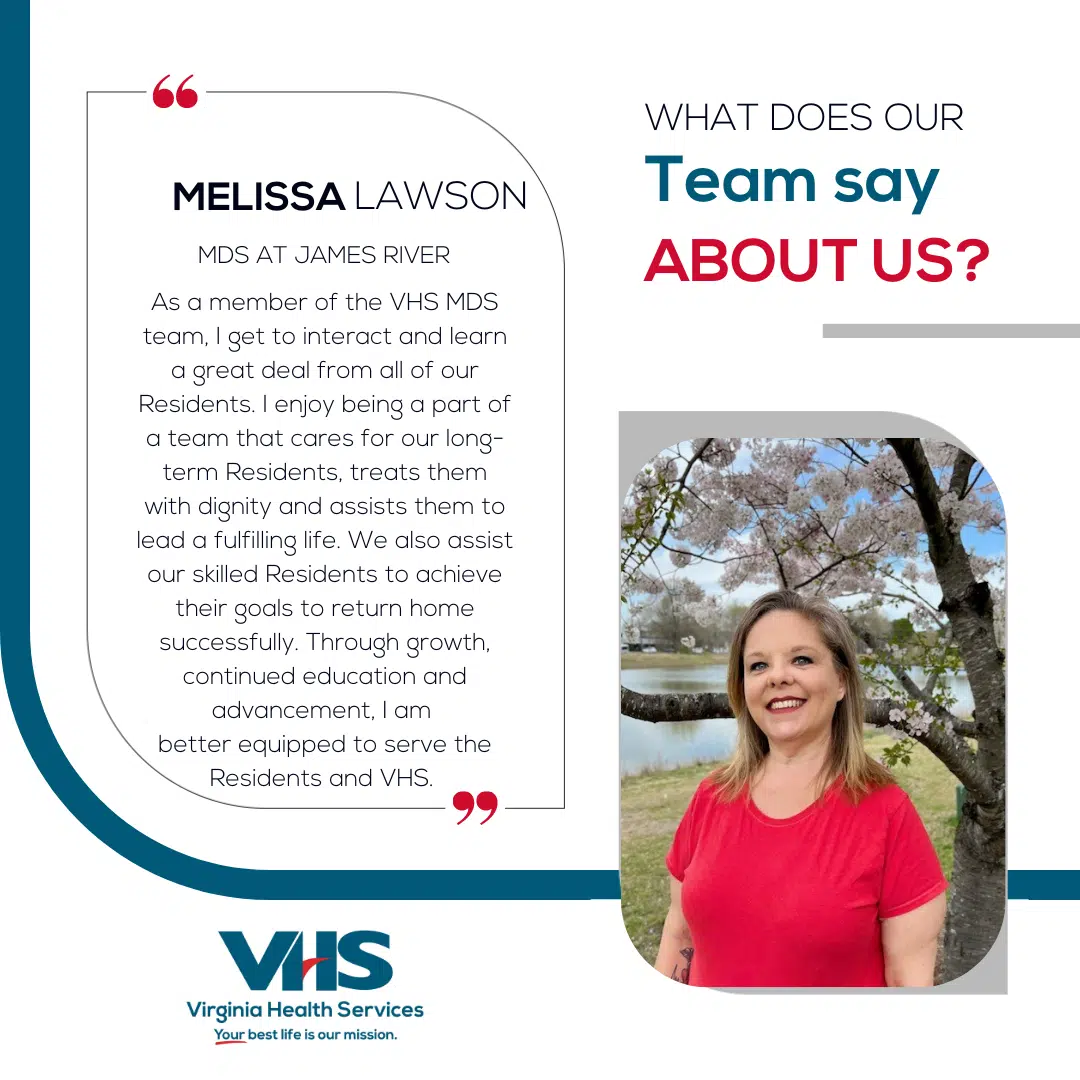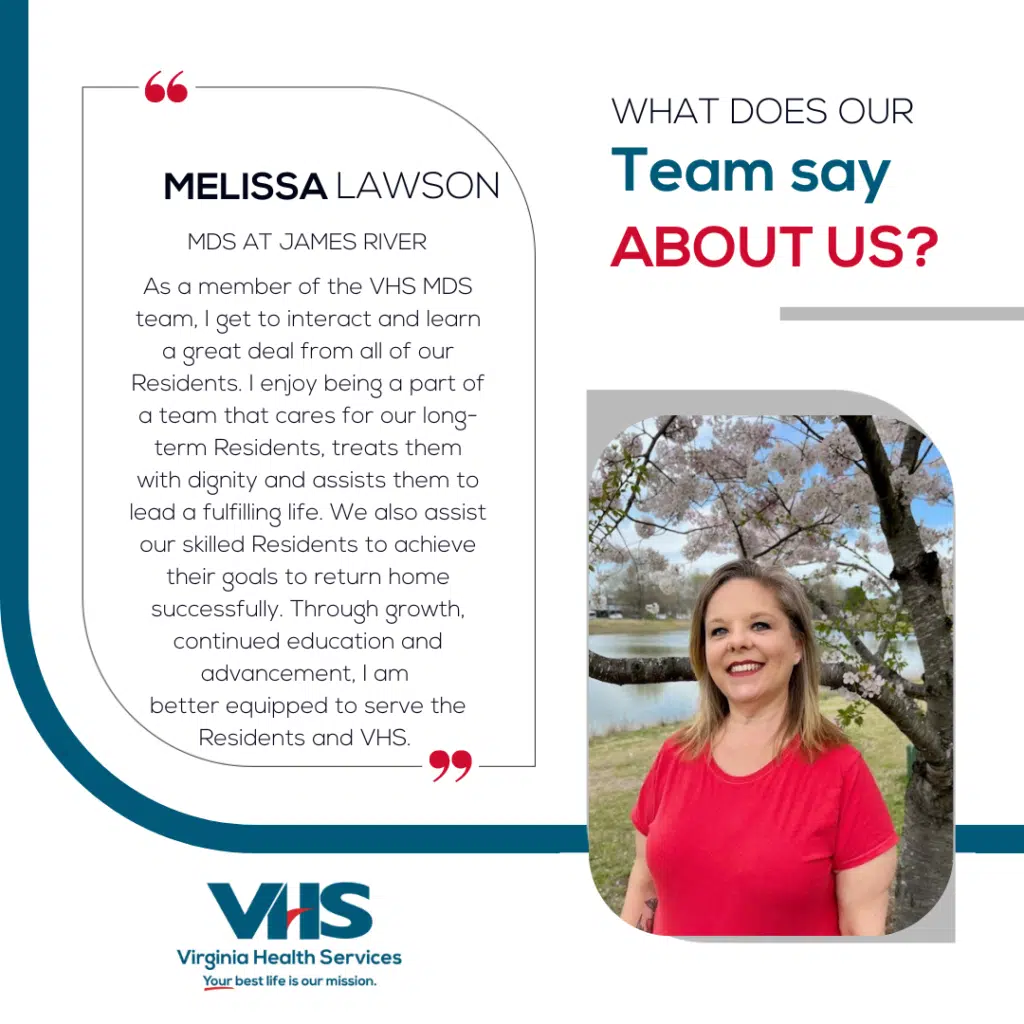 Rebecca says LPNs and RNs get involved in the residents' medical needs.
"Oftentimes, they're the go between for families and providers," she says. "They can definitely influence the care that's given."
For RNs, there are advancement opportunities in long-term care that aren't available in other healthcare settings.
Those career paths include:
MDS Coordinator, which drives the quality measures and level of care, as well as drives reimbursement to make sure VHS can provide the care and services that are needed. Coordinators have to dive deep to see what those patient diagnoses are to determine level of care.
Certified wound care nurses are a needed specialty. "We deal with chronic-type wounds, surgical wounds that won't heal. We have to be specialized in wound care and be on the cutting-edge of wound products," Rebecca says.
IV management is key. There are many patients on IV antibiotics and other IV treatments that must be managed daily.
Leadership opportunities in management positions such as director and assistant director of nursing and administrator. Several of the DONs in VHS have come from MDS roles; the same is true of our administrators. Many started as CNAs or floor nurses – that foundation where you learn a lot about the resident, Rebecca says.
There are also opportunities to move into nurse education roles. Director of Education Princess Henderson started in the CNA class with VHS in 2008. "It's all about education, education, education," Rebecca says. "The need for continuing education of the staff is vital to providing quality care. … A majority of our CNAs are coming from the six-week apprenticeship program. A lot of their education has to be on the job. It relies a lot on the nurses who already are part of the structure to provide that education."
There are opportunities to provide education within each facility, starting with infection preventionists.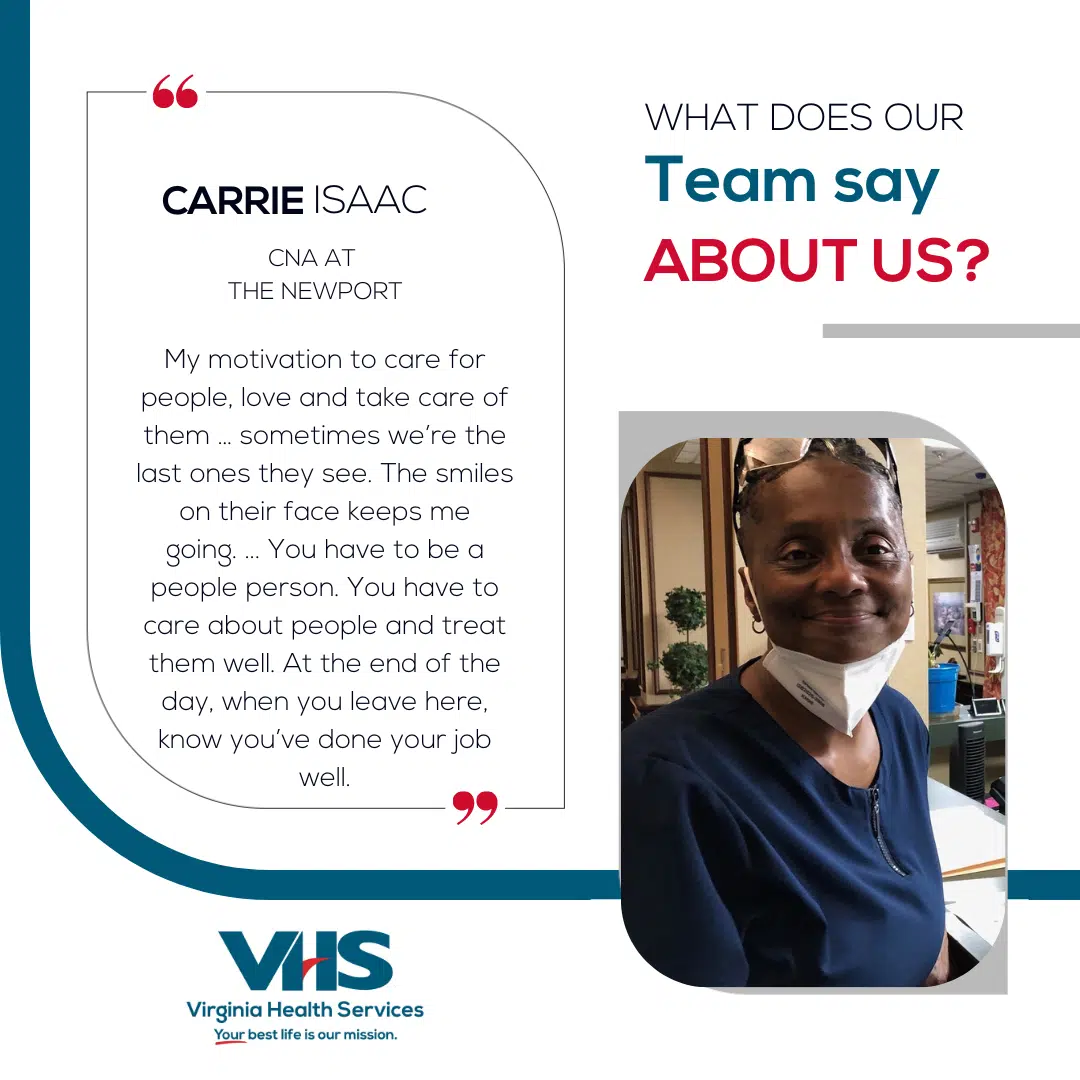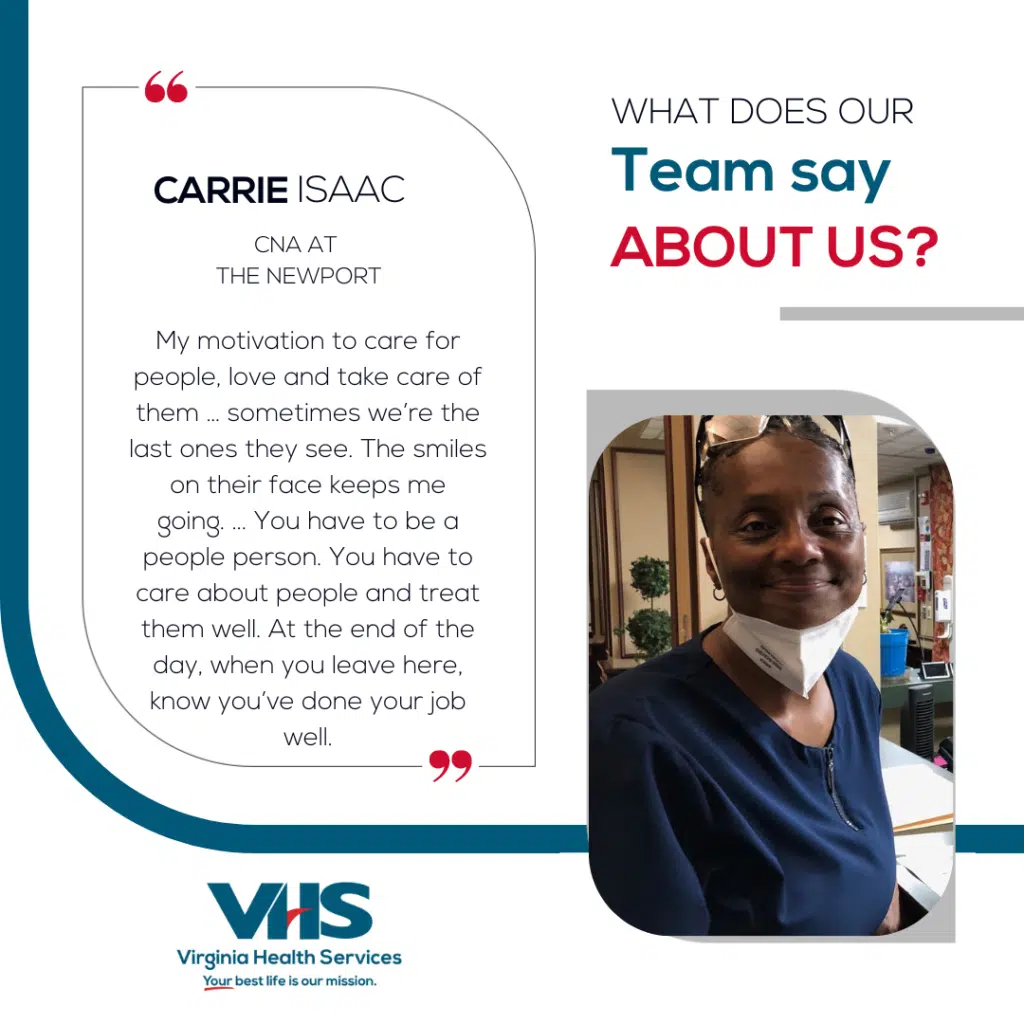 Join our team!
We are hiring for all positions, including CNAs, LPNs and RNs. We have openings for MDS Coordinator, an Assistant Director of Nursing (ADON), Central Admissions Coordinator (LPN), Infection Prevention, Nursing Education Assistant Instructor (RN or LPN) and an RN Nursing and Education Coordinator. Short-term contracts also are available for nursing positions.
Virginia Health Services offers competitive wages and benefits, flexible scheduling, bonuses, early wage access, training and development opportunities, and more. Visit vahs.com/careers to apply today.
We also offer an earn-as-you-learn apprenticeship program that graduates Care Assistants to Nurse Aides and covers the cost of the state certification exam to be a CNA. We'll open applications for July's class in June. They will be available at vahs.com/apprenticeships.