In honor of National Assisted Living Week (Sept. 10-16), we are spotlighting residents at our Huntington and Hamilton Assisted Living communities. We also are spotlighting residents at The Arbors Independent Living in Port Warwick as part of an all-encompassing Senior Living Week celebration.
Care of our residents is the heart of what we do. Our team works to support these individuals to live their best life. We are thankful they chose to call Virginia Health Services senior living communities home.
The Arbors
'A lot of fun'
Porter and Marshall Booker have called The Arbors Independent Living home since March.
"Our children got together and chose places for us to look at, and this one of them," Marshall said. "This had the advantage of no entrance fee. We liked what we saw and this apartment was available. We liked everything about it."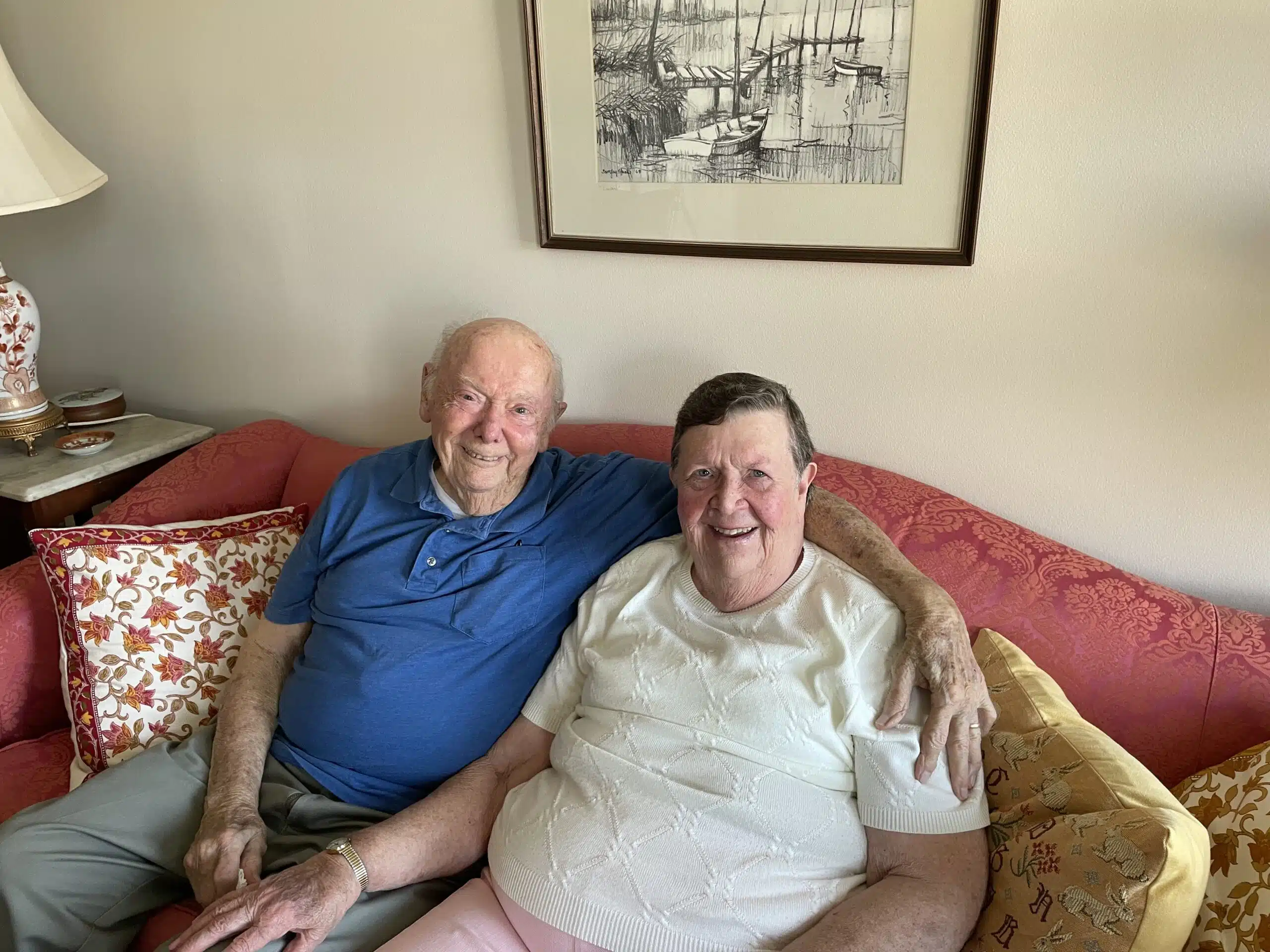 Marshall is a social person, Porter said, and had given up driving, so moving into a community like The Arbors was the right fit for their lifestyle.
"And I was looking for someone to cook some of my food," she said. "I was tired of fixing all the meals. … This has worked out fine."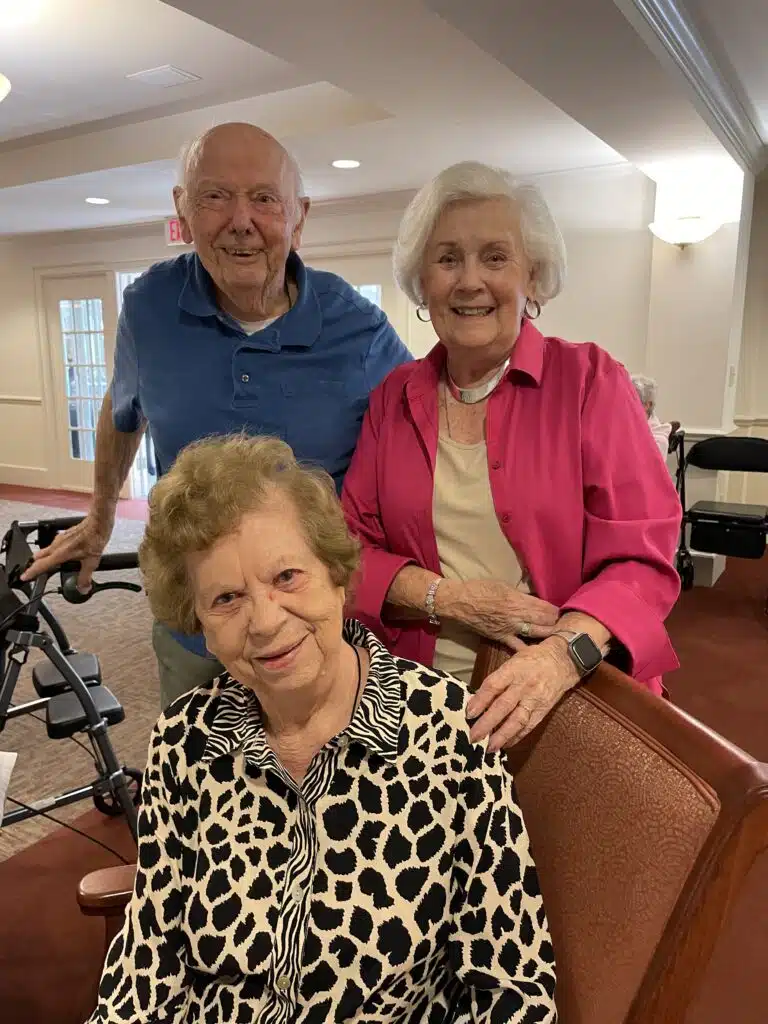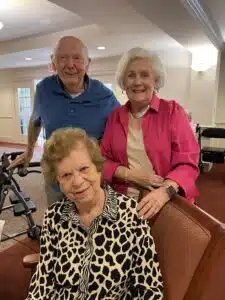 Marshall attended school with two other residents.
"I'm sure our yearbook has been around," he said with a grin.
The Bookers have been married for 60 years. They met one summer while working at the Commissioner of Revenue's office in Newport News.
"We worked together one summer and it all worked out," Marshall said.
"It really led to something," Porter said with a laugh.
They lived in Poquoson for a long while after moving back to the Peninsula. Marshall taught economics – and briefly was a dean of academics – at Christopher Newport University. He previously taught at Salem College and Old Dominion.
They have four children, nine grandchildren and one great-grandchild. Their daughters live nearby and their son is in the Baltimore area.
The Arbors life
"We made a point to try to know everyone's first name," Porter said. "We find most people outgoing …"
"And willing to help," Marshall added. "I like sitting outside; chatting with people as they come and go."
He utilizes VHS Rehabilitation outpatient services, which is just downstairs from their home.
"It's great. He can just walk down to it," Porter said.
"I like the people," Marshall said of the rehab team. "They worked with me so I could get up the stairs to my grandson's rehearsal dinner."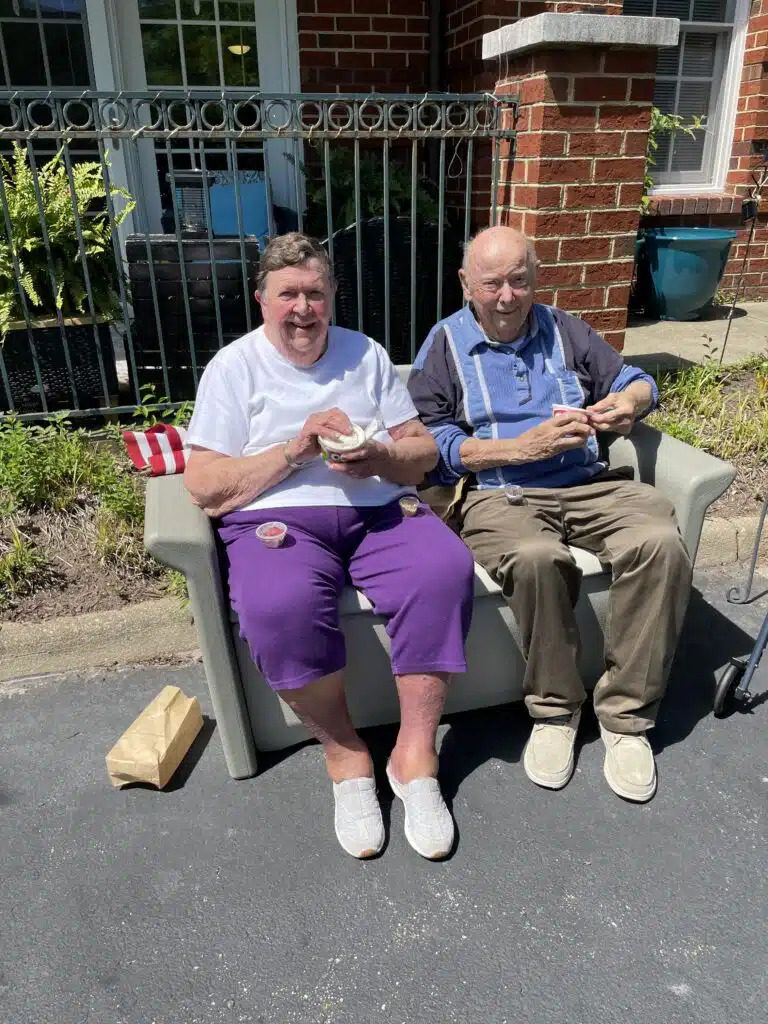 The Bookers enjoy the dining room choices – "there's always something to chose from," Marshall said. "And the desserts are tasty too."
They also enjoy the activities, like happy hour, bingo, exercise classes, Saturday game nights and "we go down to most of the functions that the (Life Enrichment Director) does," Porter said.
"It's just a lot of fun," Marshall said.
Porter added, "We enjoy the laughter."
Friends here
Sally moved into The Arbors over the spring. She is recently widowed and said she knew she couldn't keep up her "big home on the river."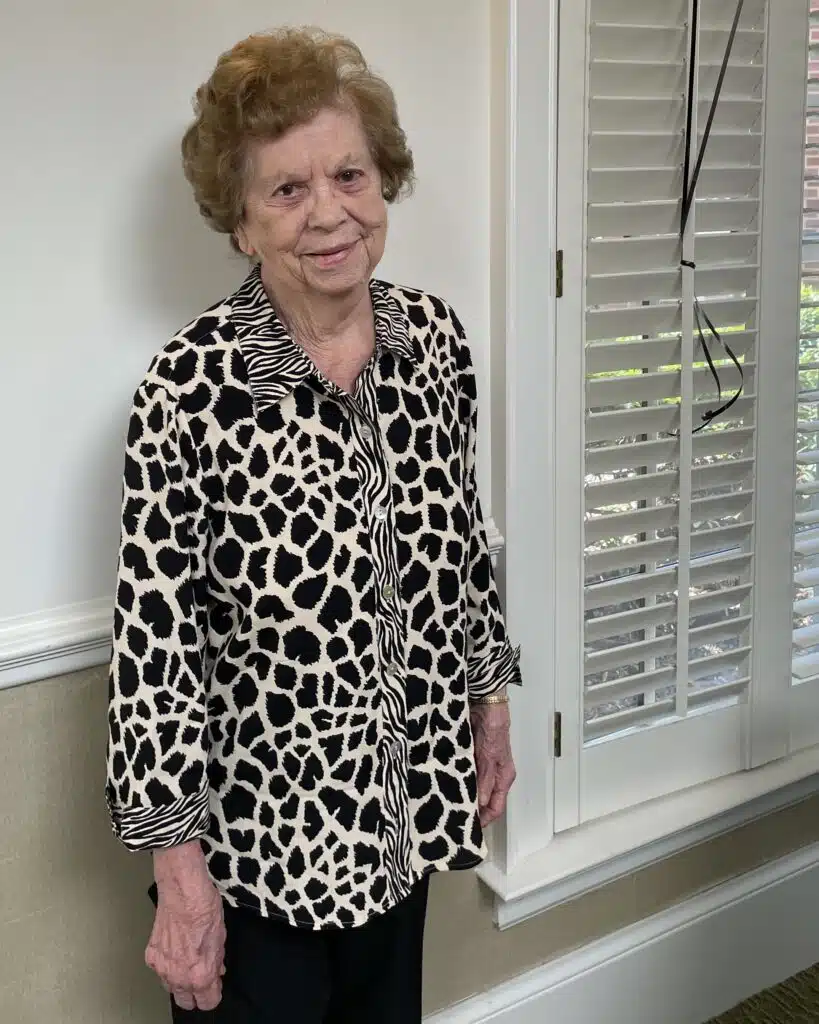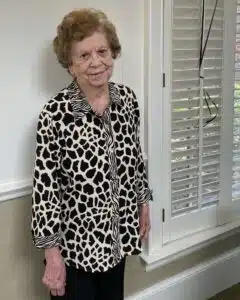 She wanted to stay close to where she lived.
"I'm still grieving, but I like The Arbors," she said. "And I have some friends here."
Sally also has family members who live nearby. One son lives in York County, another in Virginia Beach, and her daughter is 2 miles away in Newport News. Several of her nine grandchildren also live in Newport News.
One of her sons stops by for lunch on Wednesdays. He continues to work at the environmental testing lab his parents launched in Newport News.
Sally's husband was a chemist. They met in college – she at Longwood, he at Hampden-Sydney. He originally was from Newport News, and once they were married, they moved back, opening the lab in the 1980s on then-Middle Ground Boulevard (now City Center). Sally was the accountant and bookkeeper for the lab.
They would have celebrated their 67th wedding anniversary Sept. 1. Her grandson brought her a dozen red roses on the day because "that's what Papaw would have given you if he was here."
Life at The Arbors
Sally says she enjoys activities, such as happy hour and musical entertainers, and Chef Akira's menu at The Arbors. She likes enjoying her big meal of the day in the dining room, citing a recent special of fried chicken with white gravy as a highlight.
She loves to paint. She also uses rubber stamps to create greeting cards. A room in her apartment is dedicated to her art. She has a gallery wall of previous and recent paintings.
Friends at The Arbors include two childhood classmates. She graduated high school with fellow resident Joyce, and her grandson is married to Joyce's granddaughter.
"She's been very helpful to me since I've been here," Sally said of Joyce.
She also likes to read and watch TV. She is a fan of "Virgin River" on Netflix.
The Hamilton
Early Resident
Lassie Crawford says she was the 11th resident to move into The Hamilton Assisted Living in York County.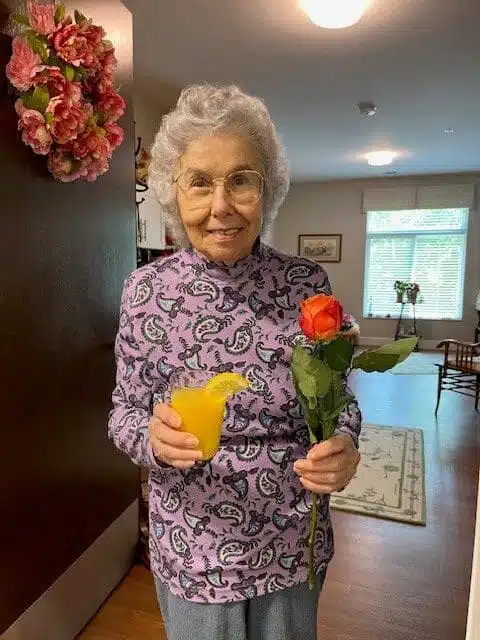 "It was a brand-new apartment, clean. I wanted a window with a nice view," she says. "This suited me just fine."
She put down her deposit after first seeing it.
Lassie says she was familiar with the location – her husband was at York Nursing and Rehabilitation Center for about two years until he passed.
"I was happy with how they took care of him," she says. "So when it came time for me to find a place, I checked this out."
It's also near her son and his family in Gloucester. She had lived on her own for about nine years before moving into the assisted living community.
"They take good care of us," she says. "I miss my home. That's something you never get completely away from. They do make you feel very much at home, that this is your home now. I've liked it from the beginning."
Her son retired from working at the Yorktown Naval Weapons Station. Lassie has three grandchildren and five great-grandchildren who all live relatively close by, save for a granddaughter in Tampa, Florida.
She says she wanted a place that would be convenient for her family to visit. She says they're very attentive.
Lassie originally is from North Carolina. Her husband was in the Army. They lived together in Panama on assignment before selecting to come to Fort Eustis in Newport News.
"We lived in Newport News for a number of years," she says. "He was on a lot of assignments I couldn't join him on."
They were married 63 years before he passed.
"We had a good marriage. We were happy," she says. "A lot of times, I would have liked to have him home more. You manage to do what you have to do. It taught me a lot – there were a lot of things I had to do on my own. … After he passed, I stayed in my home along for about 9 years by myself. I did OK."
Her husband retired after 33 years in the service, then did volunteer work at Fort Eustis. The Crawfords volunteered for Meals on Wheels.
"He enjoyed people. I drove. I could depend on him to be a few minutes – he'd help with other chores they needed help with," she says.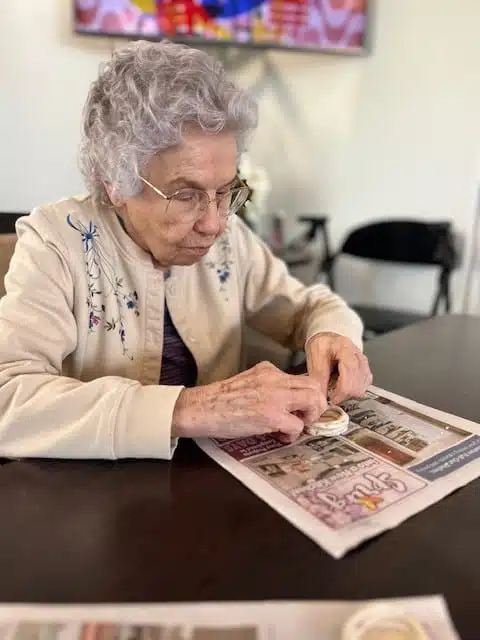 She enjoyed needlework and sewing, which she translates to quilting classes each month at The Hamilton with Gala.
"She's good, she's really good," Lassie says. "One thing with the activities we have here – some I really enjoy, but we can pick and choose. They keep us pretty busy."
She enjoys going to the teas.
"Those can be so much fun. Kirstie has a real knack for decorating things and it's fun just to go see what the theme is."
Lassie also enjoys the therapy dog visits, Mr. Hamilton (the resident rabbit), art with Emily, musical entertainment and the library drop-off and pick-up in the lobby.
"I feel fortunate I've had pretty good health overall," she says.
The team at The Hamilton made sure she was using her walker to avoid falls.
"They're really good about helping us take care of ourselves. They want us to do what's safe. When you need to change, you don't always take it seriously. I know I didn't … didn't take much for me to lose my balance and fall. I needed more help with things.
"I've been happy here."
York County is home
Patricia Foretich has called The Hamilton home for about two years.
She was receiving rehabilitation at York Nursing and Rehabilitation Center for a fractured tailbone before transitioning to assisted living.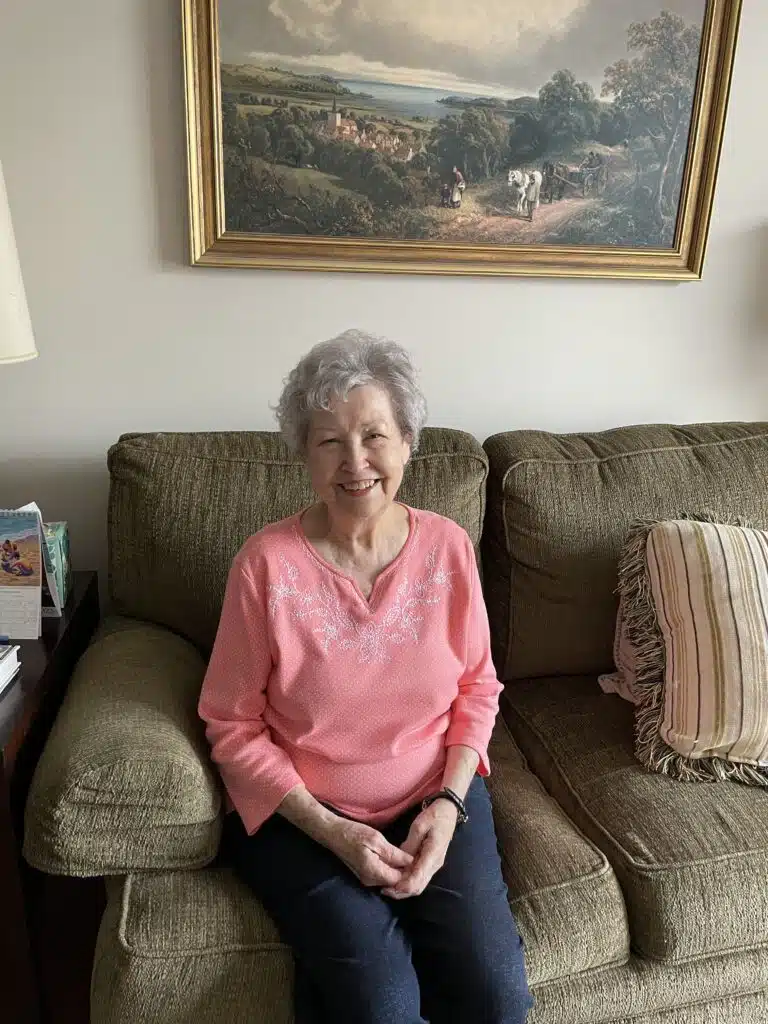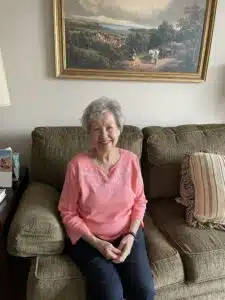 "You just have to wait it out," she said of waiting out the fracture. "My back has been bothering me for years. I have osteoporosis. But you know, I'm kicking. Not very high. That's what my mom says."
She moved to York County when she was 18. She turned 85 this year and has two children who graduated Tabb High School. Her son recently retired from NASA.
Her pride and joy are her five grandsons – she can't keep the smile off her face when sharing their accomplishments.
"I'm proud of them," she said. "They worked hard to get where they are."
She says her family is happy they don't have to worry about her anymore. Her sister is also a resident, living in an apartment upstairs.
"The Hamilton is great," she said. "We all look forward to the food. The nursing is wonderful."
A family friend helps her once a week to run errands, get her nails done and they go out to lunch.
"The activities are great. You can choose. It's always something," she said. "The therapy dogs are wonderful, everyone looks forward to them when they come."
She's also an avid reader and appreciates the library drop-off and pickup.
"If you want help, all you have to do is ask, and they will gladly help you," she says.
She spent her career, mostly as a secretary, she said, and tried to stay home as often as possible as her children were growing up. It took slight prying to learn she worked through the Aerospace Education Project for NASA, working at the NASA Langley Visitors Center in Hampton.
"That was great … it was a great place to work," she said.
She riffled through a box of old photos, pulling out a signed picture from Sally Ride. She traveled to several NASA campuses, including Houston; Cape Canaveral, Florida; and Oklahoma.
"I flew quite a bit," she said. "I have some good memories … years go by fast."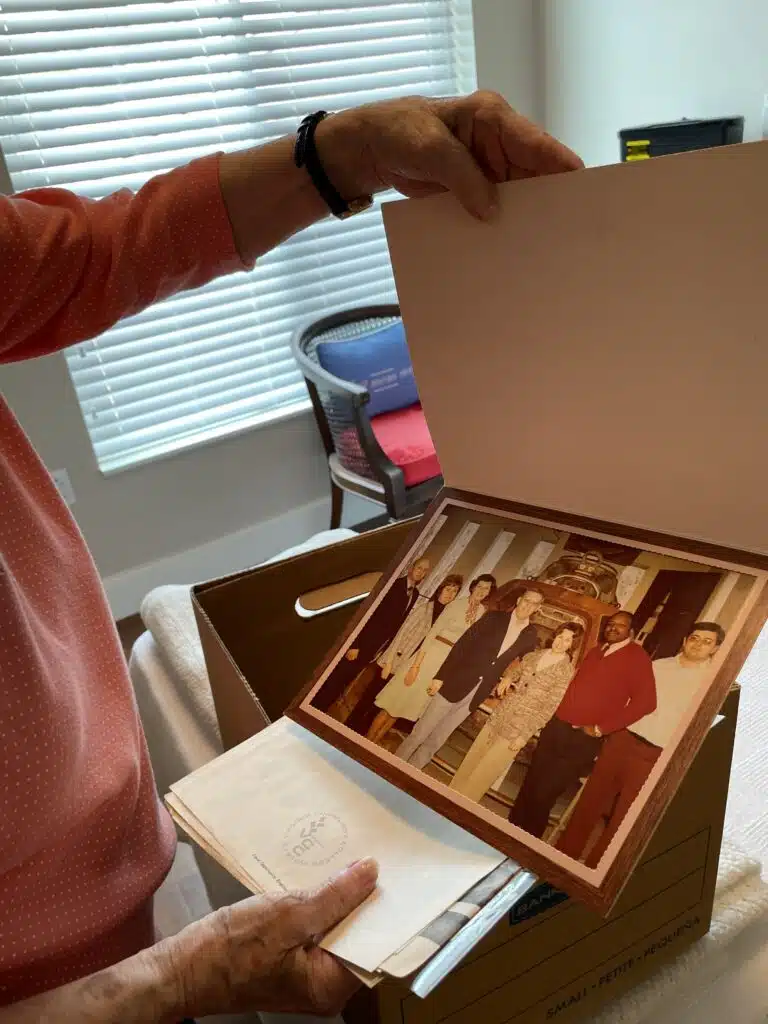 The Huntington
Centurion
Muriel Baker has called The Huntington Assisted Living in Newport News home for about two years.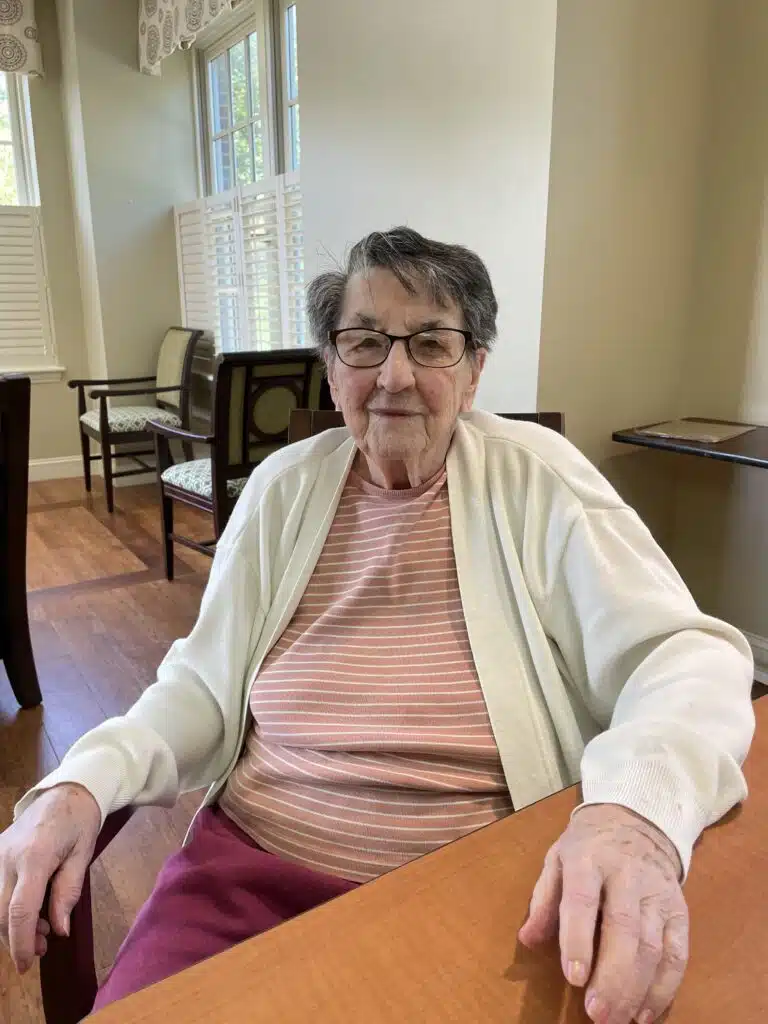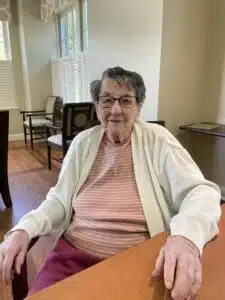 She's a Detroit, Michigan, native and has lived in states coast to coast. Her granddaughter and her family live on the Peninsula, which is how she found herself at The Huntington. Her grandson lives with his family internationally; they teach in American schools overseas. She has four great-grandchildren.
Muriel was a nurse, doctors' offices, hospitals and in public health. "Once a nurse, always a nurse," she says. Her mother wanted to be a nurse, but there were fewer training opportunities at that time.
"I enjoyed it all," she says. "You meet all kinds of people; have to deal with all kinds of people. … I learned to deal with the public."
Her life has spanned memorable events, including the attack on Pearl Harbor in 1941. Her husband was a pastor, who she met at her family's church in Michigan. When they were married, he was called to California, where they did Skywatch, reporting on the directions of airplanes coming and going. It was a civilian group, Ground Observer Corps, that was created in WWII and re-established during the Cold War. They also moved Florida. "He was an older man; he was a great man," she says. "It's been an interesting life."
Muriel turned 100 this year. She was surrounded by her friends at The Huntington.
"The people at The Huntington are nice. The food is good. They take good care of us here," she says. "They keep us busy here; they try to keep us out of mischief."
She likes Bingo, games like UNO, crafts and, "everybody likes Hoppy (the rabbit)."
"At my age, I'm supposed to be wise. They say wisdom comes with age, but I'm not sure about that," she says with a smile.
"It's been an interesting life."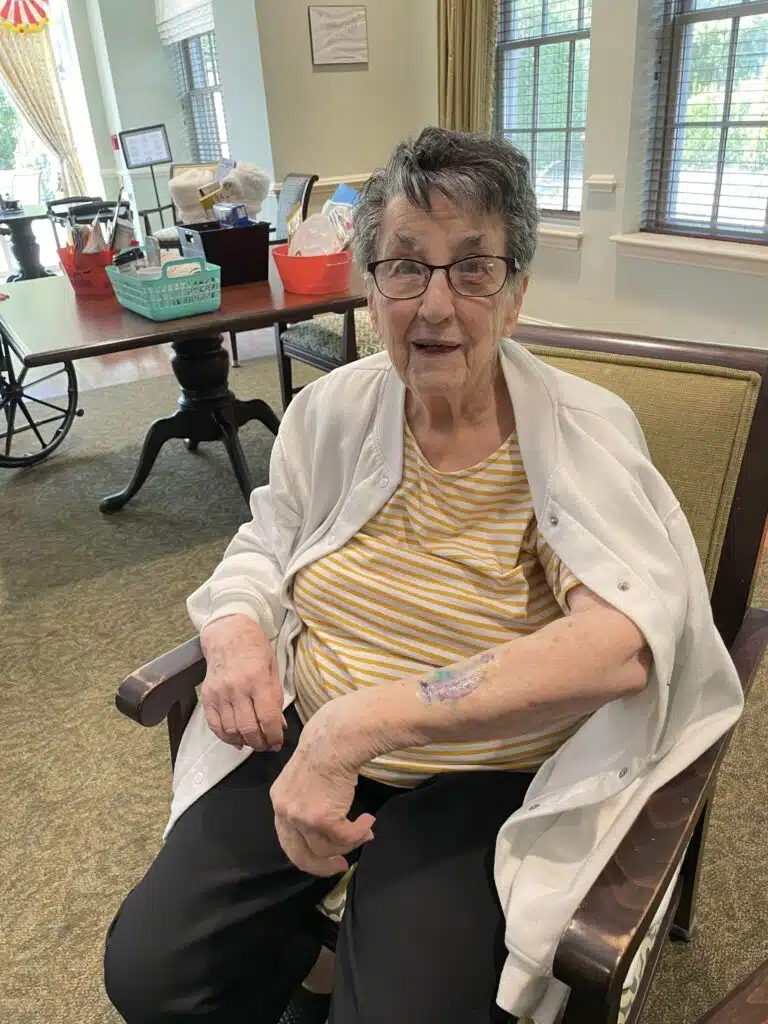 Find your community
Learn more about our senior living options with Virginia Health Services at vahs.com/seniorliving. We offer independent and assisted living communities to help meet your needs. Schedule a tour today!