He has a business card with his picture on it. He carries around individual's stories about their lives, what they've witnessed and what they think. And he wears a tie.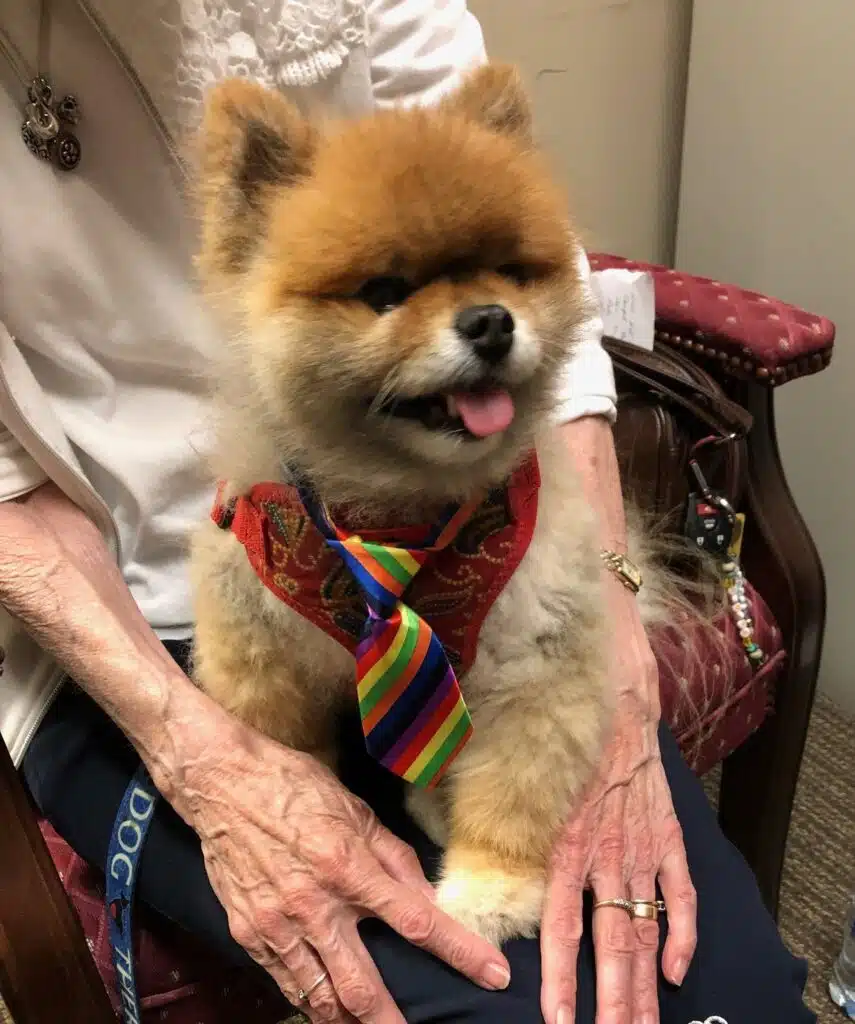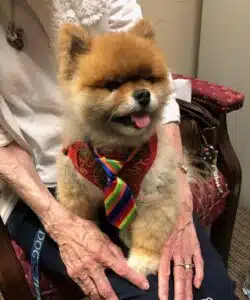 Meet Trey, a 7-year-old Pomeranian who works with owner and handler Jean Nohle, the Peninsula chapter director of Therapy Dogs International.
There are 39 dogs and 32 handlers in the Peninsula chapter, which runs from Williamsburg to Hampton and Gloucester and all points in between. They also assist with events Southside, such as after the mass shooting in Virginia Beach in 2019.
The dogs and their handlers visit Residents at Virginia Health Services' assisted living communities and nursing and rehabilitation centers. Each visit sparks a smile from the Residents and Team Members who look forward to seeing them each week.
"It's rewarding work for us, for the employees, for the volunteers and for the dogs," Jean says. "It's a win-win situation all around."
What is Therapy Dogs International?
Therapy Dogs International (TDI) is a volunteer organization. The primary purpose of its dogs and handlers is to "provide comfort and companionship by sharing the dog with patients in hospitals, nursing homes and other institutions and wherever else the therapy dog is needed."
Jean says the dogs will go wherever they are needed to provide comfort.
Not all dogs are meant to be in TDI, and not all situations are meant for all dogs.
"We never force our dogs to anybody," Jean says. "You've got to read your dog."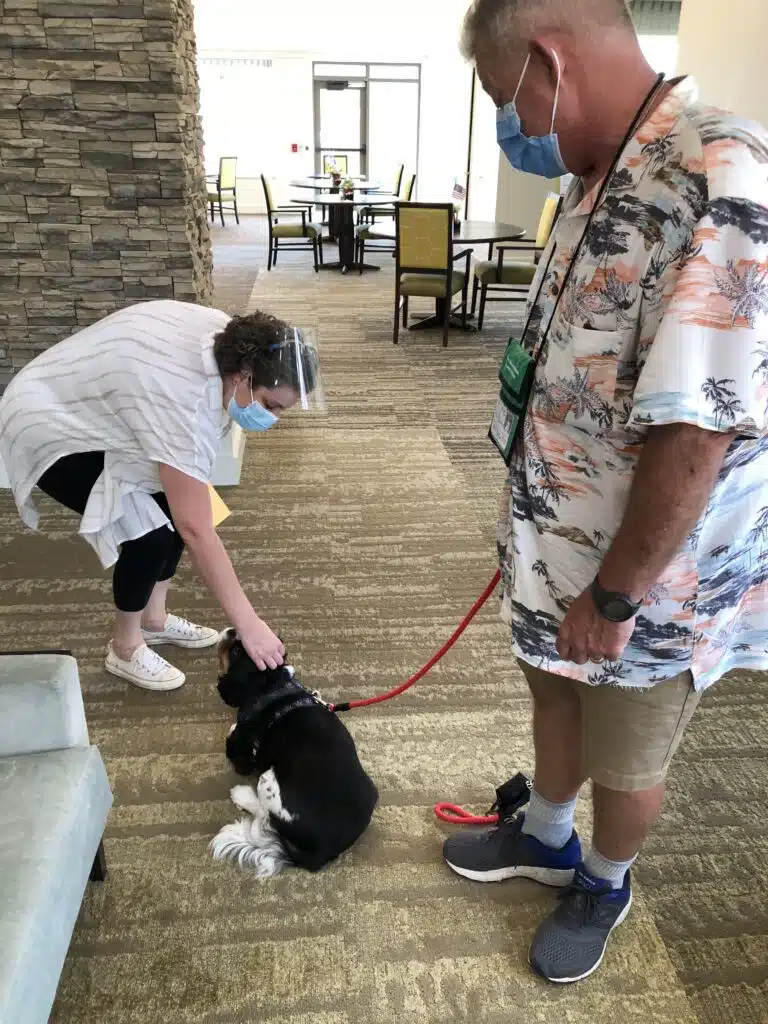 Benefits of pet therapy
Studies have shown pet-assisted therapy benefits individuals.
"It's been proven the dogs reduce blood pressure, heart rate, improve frame of mind," Jean says. "They work with people who have had strokes, and the (dogs) can help (individuals) relearn movements to pet the dog or walk to a dog."
Jean said the organization gets a lot of requests for visits to first responders, such as clinical staffs, firefighters, police officers and EMTs.
Jeff is a volunteer with Therapy Dogs International. His mother is a Resident at The Hamilton Assisted Living. He brings Auggie over frequently to visit with Residents and Team Members at The Hamilton and York Nursing and Rehabilitation Center. He also makes visits to other nursing homes, including those within the VHS family, as called on.
He says it's a great program. He and Auggie have been with the program for a few months.
TDI in VHS communities
Dogs and handlers keep to a schedule with Virginia Health Services' communities, including The Hamilton and The Huntington Assisted Living, and Coliseum, James River, The Newport and York Nursing and Rehabilitation Centers.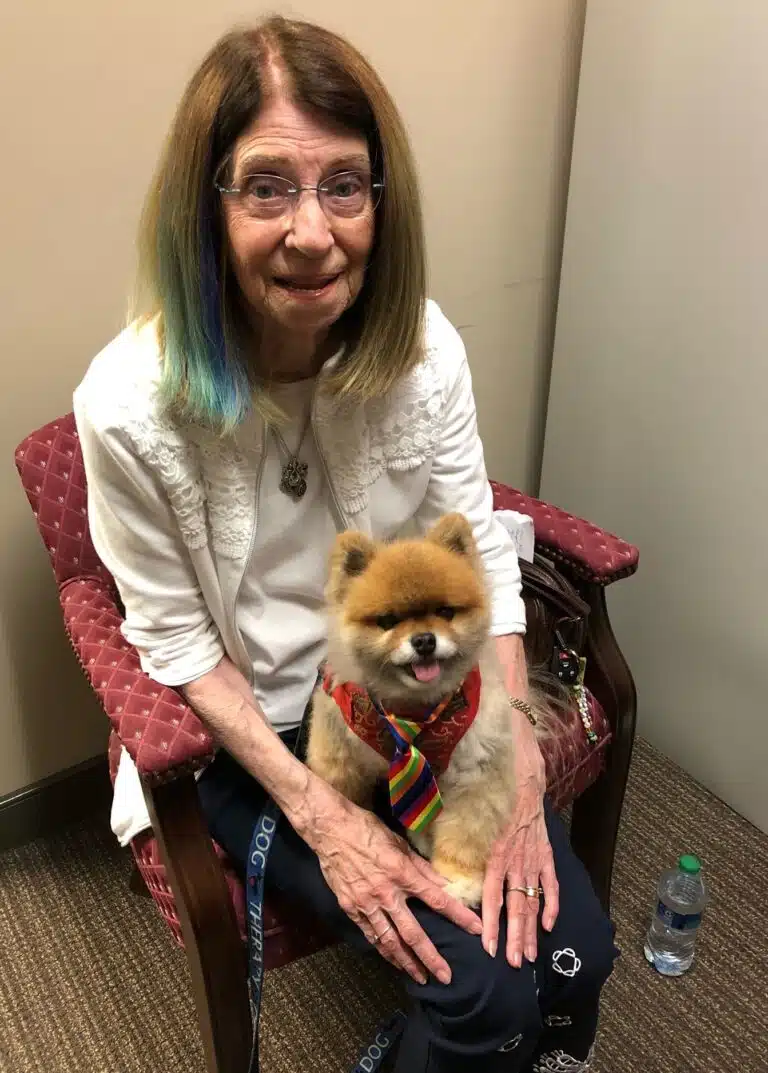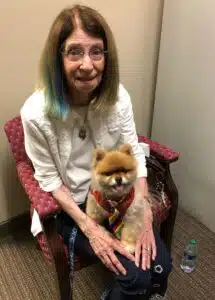 "You're making a commitment; those people look for you," Jean says of the schedule. "For some, these dogs are their family."
Team Members also keep an eye out for their four-legged visitors.
"They look for them, they need them," Jean says. Trey, for example, has two nurses he races to every time he sees them at The Newport.
"We've been with some of our patients for a long, long time," Jean says. Dogs and handlers have been to funerals, both to offer support to surviving family members and to help provide closure to the dogs.
"They know," she says when someone they developed a relationship with passes. In addition to nursing homes, TDI also does work with individuals in hospice care.
Background story
Jean has been with TDI for 19 years.
"My mother had stroke and was in nursing home for four years," she says. "I saw the volunteers, what they did for the Residents, and said, 'I'm going to pay this back.'"
Leading the TDI chapter here is how she says she does that. She is a licensed evaluator for the dog and handler training and coordinates extreme situation training with members of the community.
She also is a trainer at Perfect Paws Pet Training.