Virginia Health Services welcomes its latest graduates from the apprentice program to its workforce. Eight care assistants graduated to nurse aides from the earn-as-you-learn apprenticeship program during a ceremony Oct. 13 at the VHS Education Center.
The graduates are Alysse Eagan, Aniyah Fitzgerald, Eureka Johnson, Keyena Oliver, Isabel Perez-Garcia, Darrell Pink, Jazmine Russell and Charise Samuels.
They are employees with VHS, with five going to work at James River Nursing and Rehabilitation Center, and the rest dispersing to The Newport, Northampton and Walter Reed nursing and rehabilitation centers.
"This class raised the bar. This was an exceptional class," said instructor Nora Gillespie, RN. "You were together in spirit. You were focused. It was a pleasure to teach you all. I know you're ready to fly from the nest and start your career."
The apprenticeship continues over the course of a year, with a review before the state exam (the cost is covered by the program). By passing the state test, the apprentices will be Certified Nurse Assistants (CNAs).
"This is the foundation of nursing. Don't let anyone diminish what you do. You'll use this going forward," said Direction of Education Princess Henderson, RN, BSN.
Two graduates are enrolled in RN programs beginning in January. Another is planning to pursue nursing with a concentration in mental health.
By the time the graduation ceremony was over, each graduation walked off with superlative certificates from Nora and Princess for their excellent work over the course of the six-week program. They had to learn 22 skills, pass 24 tests, do six days of clinical skills – all while working weekend shifts as care assistants.
"Nothing is easy about this class," Nora said. "They have to learn so much."
The students
Valedictorian Alysse Eagan came into the class with a background in web design.
"I'm proud of all of us for getting to this point. I'm also very thankful. I've been bouncing from career to career trying to find something that fit. When I found this, I felt like I found my calling. I'm thankful for all of you and the support you gave me," she said to her classmates in her valedictorian remarks.
She is enrolled to begin a RN program in January.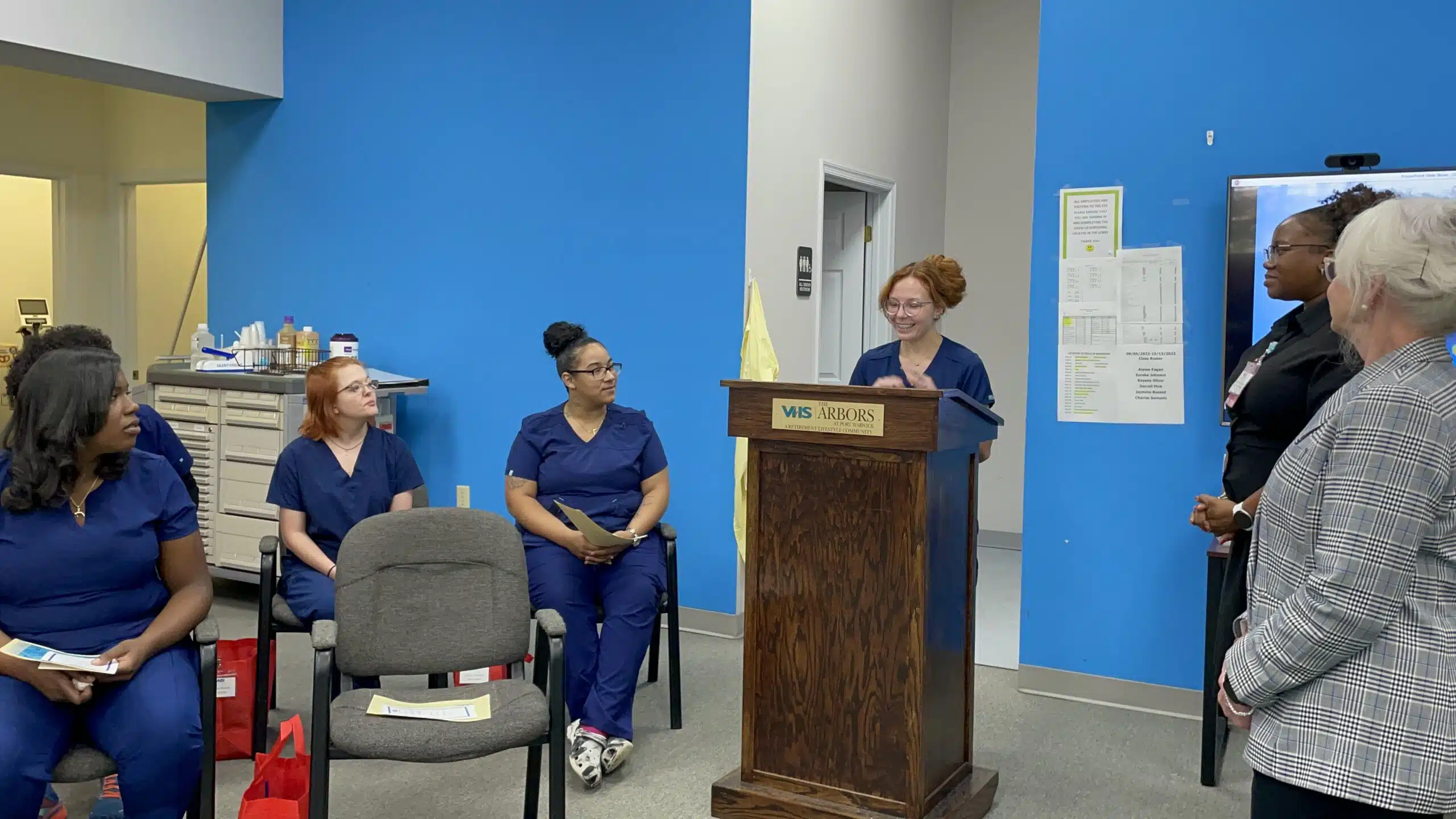 Salutatorian Jazmine Russell drove to Newport News every day from the Middle Peninsula to attend class. She returned to the class after working in dietary at Lancashire, taking a break after the COVID pandemic put a halt to state testing.
Aniyah Fitzgerald's mother also works at James River. Aniyah earned a superlative award for clinicals.
"She loves patient care," Princess said. "She lives for it."
Eureka Johnson also was a repeat student, earning the Perseverance Award from Princess.
"She can occupy a room and has a heart of gold," Nora said.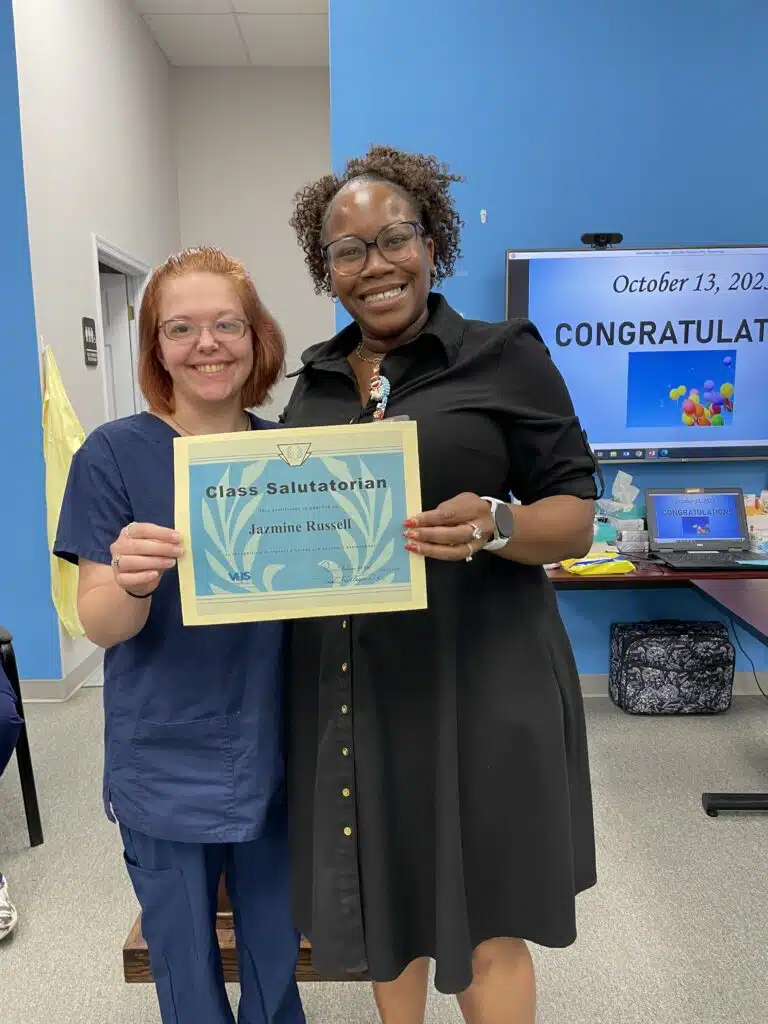 Keyena Oliver, Isabel Perez-Garcia, Darrell Pink and Charise Samuels earned Spirit of Excellence Awards from their instructors for giving 100% to the class.
Keyena "did an amazing job," Nora said.
Princess said she loved the energy Isabel brought to patient care.
Darrell joined the class with a medical background and served in the Navy. He is enrolled to start in a RN program in January.
"I knew from Day 1 she had it," Nora said of Charise. "This class really emphasized where you want to be in your career."
Princess said Charise has a background in mental health and wants to pursue that niche of nursing.
"We care about our students. This class is meant to be here," Nora said.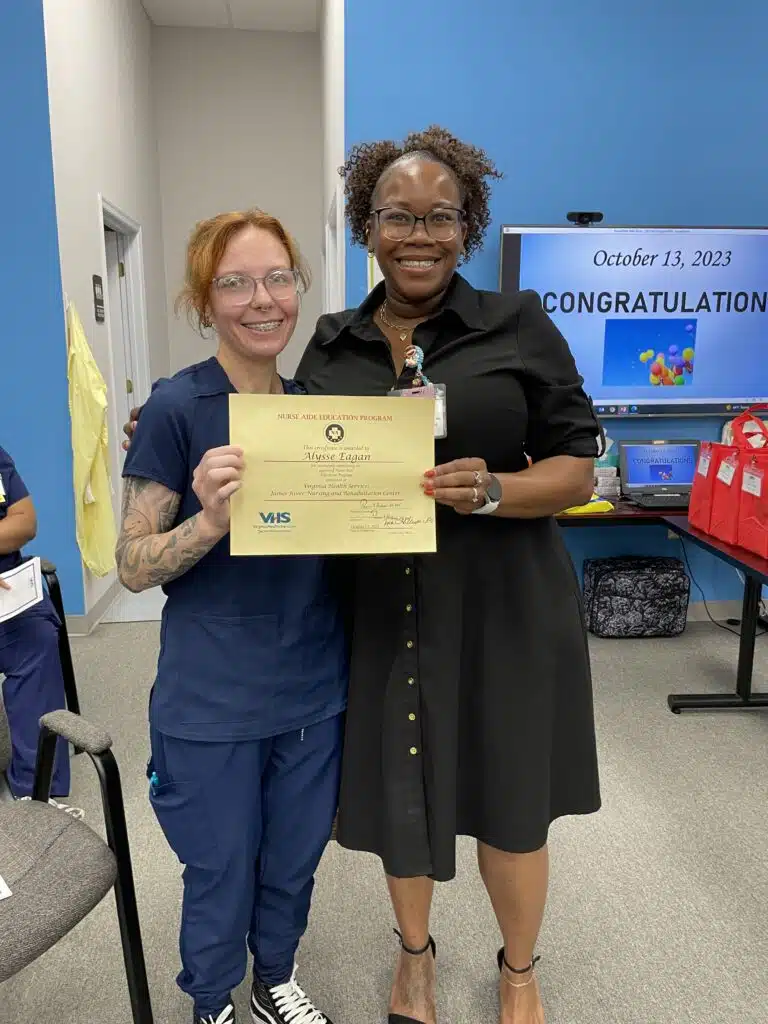 Upcoming classes
The next class of apprentices – the last of the year – is slated to begin Oct. 30. The earn-as-you-learn apprenticeship program graduates Care Assistants to Nurse Aides and covers the cost of the state exam to be a CNA.
The 2024 class dates for Newport News have been announced and are available at vahs.com/apprenticeship.
Applications will open for the January class later this year. A class also is slated to be offered at Walter Reed Nursing and Rehabilitation Center in Gloucester in January.