Six apprentices graduated from Care Assistants to Nurse Aides in a ceremony Thursday, June 22, 2023, at Virginia Health Services' Employment, Enrichment and Education (EEE) Center.
The earn-as-you-learn apprenticeship program is a six-week course that includes classroom education and clinical skills labs. The program also covers the cost of the state certification exam to be a CNA.
The graduates are Aaliyah Glee, Khaylor Griffin, Stephanie Holland, Naye Tiyanna Holloman-Lee, Marina Thomas and Emma Ward-Senghor.
The students will be team members at York, The Newport, Coliseum and James River Nursing and Rehabilitation Centers. The instructors said each student already is scheduled for the certification exam.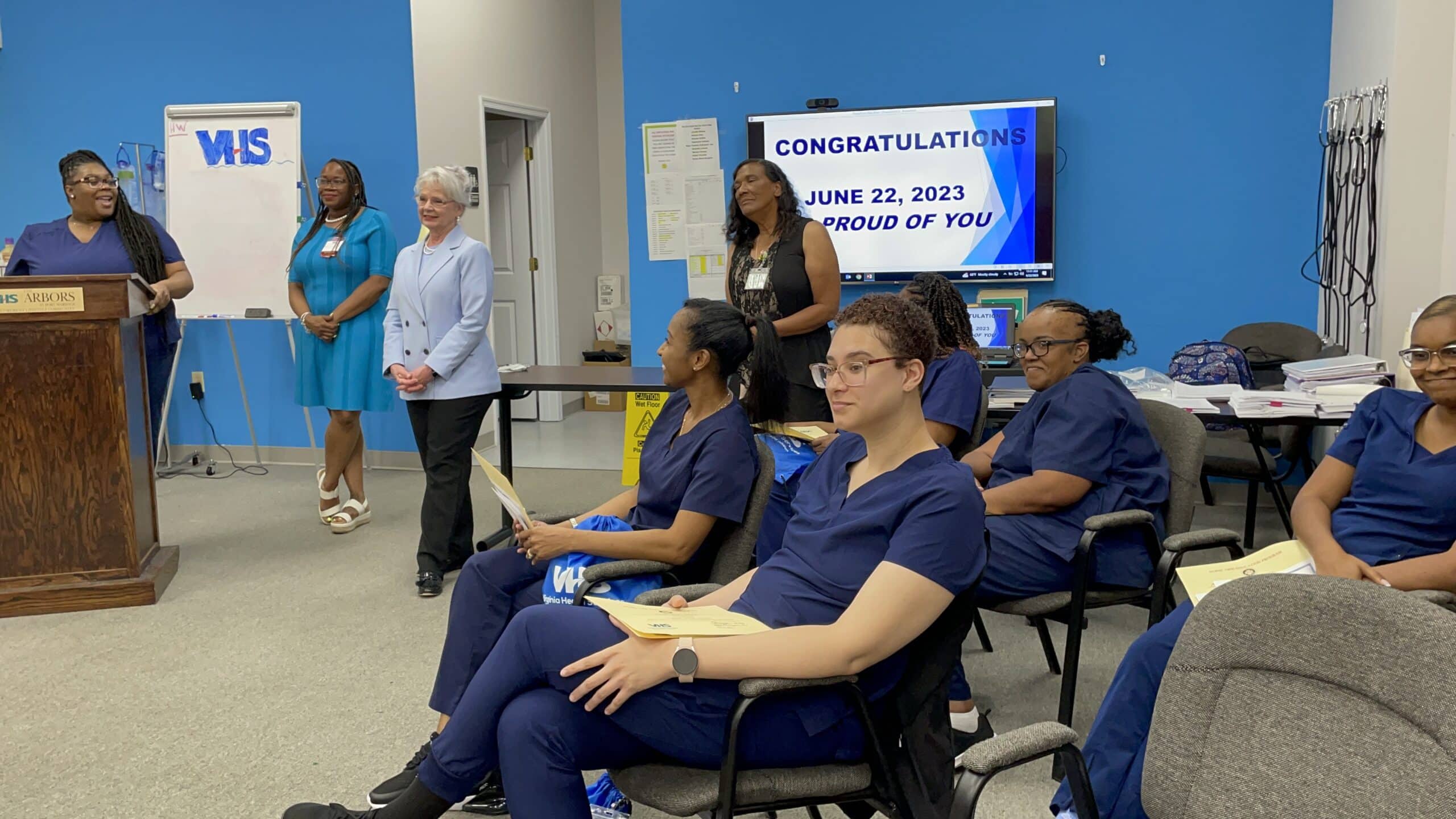 The ceremony
Director of Education Princess Henderson, BSN, RN and instructor Nora Gillespie, RN, led the graduation ceremony and provided kind words and anecdotes about the graduates.
Nora opened the ceremony telling the gathered graduates, family and friends that "we are dedicated to the success of our students. We want them to be able to navigate healthcare. We hope you all took something from each of us.
"It's physically and emotionally hard to work in long-term care. You were all exceptional."
Princess said it was a wonderful class.
"The sky is the limit. Being a nurse is so rewarding. You all have the qualities a great nurse will have," she said. "When I would talk to Nora before they came to me, she just said, 'they're good. They have it.'"
Princess called valedictorian Aaliyah the "life of the party. She strived to be the best. She's going to be a great leader."
Nora said Aaliyah's smile could light up a room and she enveloped everyone in the class with her warm spirit.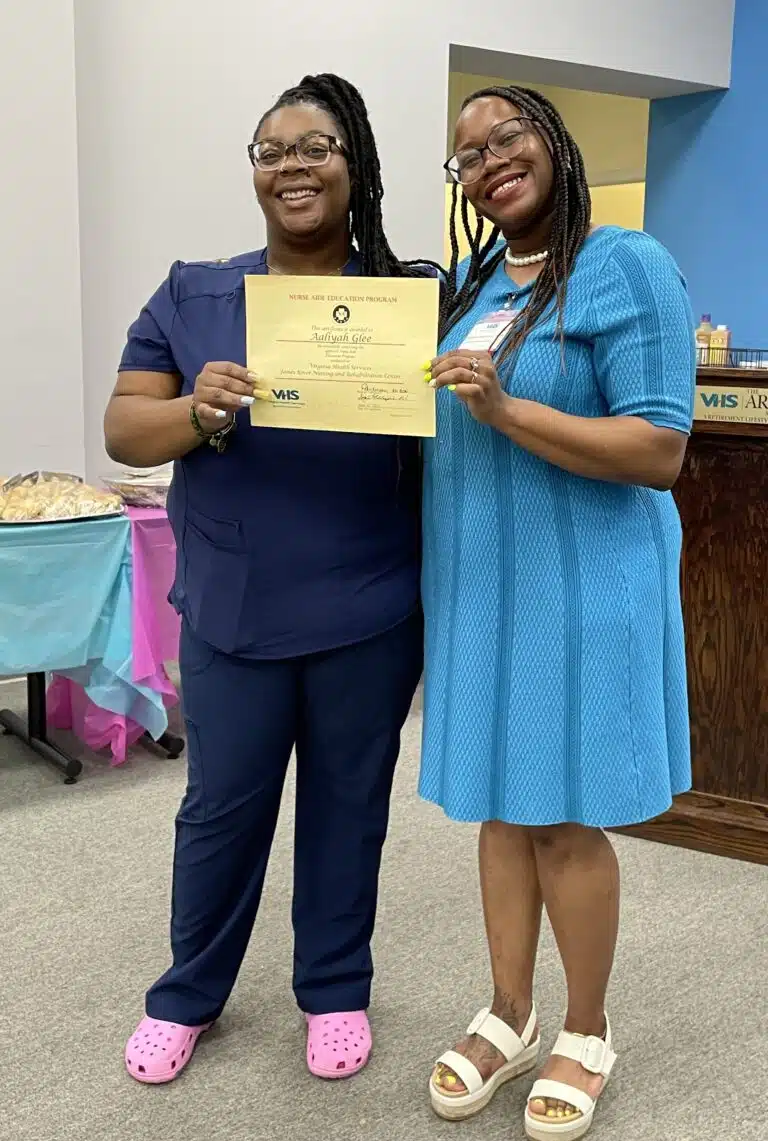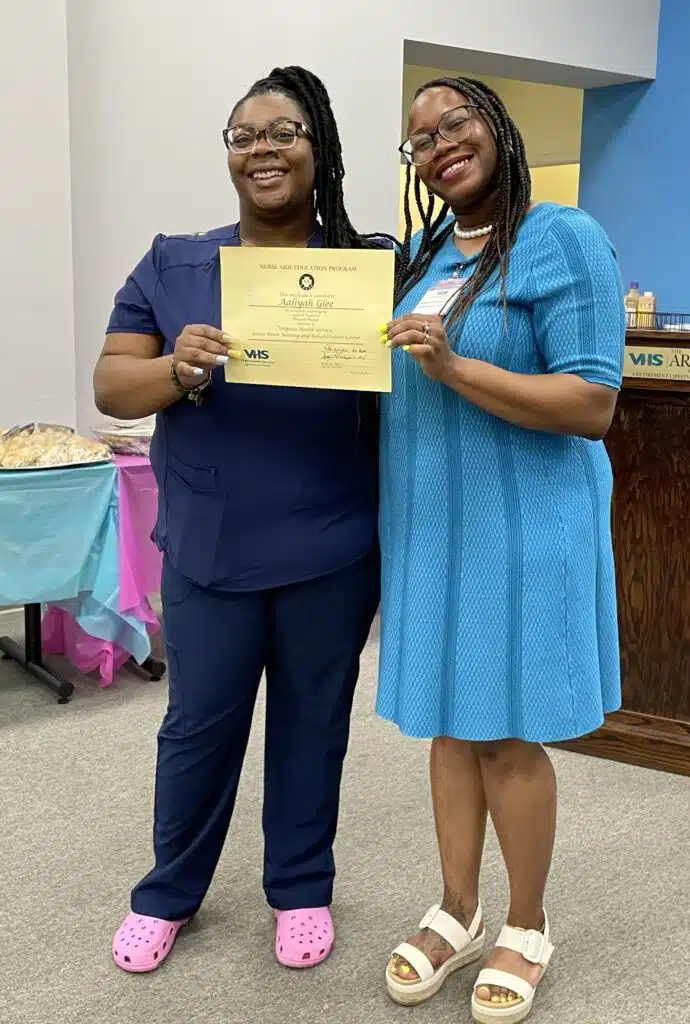 Khaylor had "heart, professionalism and maturity" to do the job without having previous experience in patient care. Stephanie, who earned the clinical superlative award, worked really hard to get where she is, Princess said, and Nora added her compassion shows on her face.
Residents loved Naye, both instructors said. Emma, who joined the class later in life and has experience as a CNA, embraced the teaching style and took her classmates under her wing.
Salutatorian Marina Thomas is loved by her residents on the Jefferson unit at James River.
"She's a quiet, gentle person who brings joy to the residents," Princess said.
Join our team
Applications will be accepted for our September earn-as-you-learn apprenticeship class on July 24. Classes fill early, so be sure to submit your application once they open. Our students graduate with jobs within VHS and the program offers several benefits. Visit vahs.com/apprenticeship for more information and to apply.