The week of June 15-21 is designated by the National Association of Healthcare Assistants as CNA Week. This year's theme is "We're Unstoppable." We know the team of Nursing Assistants and Certified Nurse Aides (CNAs) at Virginia Health Services is unstoppable.
We have a range of CNAs, from veterans to those who will graduate from our apprenticeship program to Nurse Aides on June 22. Our CNAs are the eyes and ears of the clinical team at our communities, spending time with the residents and patients. They provide personal care to assist residents in getting ready for the day and aide in all forms of activities of daily life. CNAs build personal relationships with the individuals in their care.
To celebrate this year, we are featuring four CNAs who have come up through VHS's apprenticeship program in the past two years.
Our team members fell in love with the job because of the residents. And it all started with the team of instructors for our apprenticeship program, Director of Education Princess Henderson, RN, BSN and instructor Nora Gillespie, RN.
The six-week earn-as-you-learn apprenticeship program graduates Care Assistants to Nurse Aides and covers the cost of the state certification exam to be a CNA. Apprentices are then employed at our seven nursing and rehabilitation centers.
Three of our featured apprentices graduated from the program about a year ago. Another was in our third graduating class and spent over a year as a CNA before transitioning to activity director of The Huntington Assisted Living. She still works CNA shifts.
Here are their stories.
Devyn Hotop, The Huntington/The Newport
Devyn Hotop considered nursing after graduating from high school, but wanted to attain nurse aide certification to test the waters. She says the apprenticeship – she graduated in the July 2021 class – gave her the foundation she needed and she "really, really liked it."
She passed her exam on the first try and worked for more than a year as a CNA at The Newport Nursing and Rehabilitation Center. Devyn said she always saw the residents having a good time during recreational therapy and when the activity director job opened at The Huntington Assisted Living, she knew she wanted to do it.
"I love this job so much. You develop a lot of one-on-one personal relationships. It keeps you busy, which I like. It's rewarding knowing you are doing something for them," she says.
She also picks up CNA shifts at The Newport to be hands-on in patient care.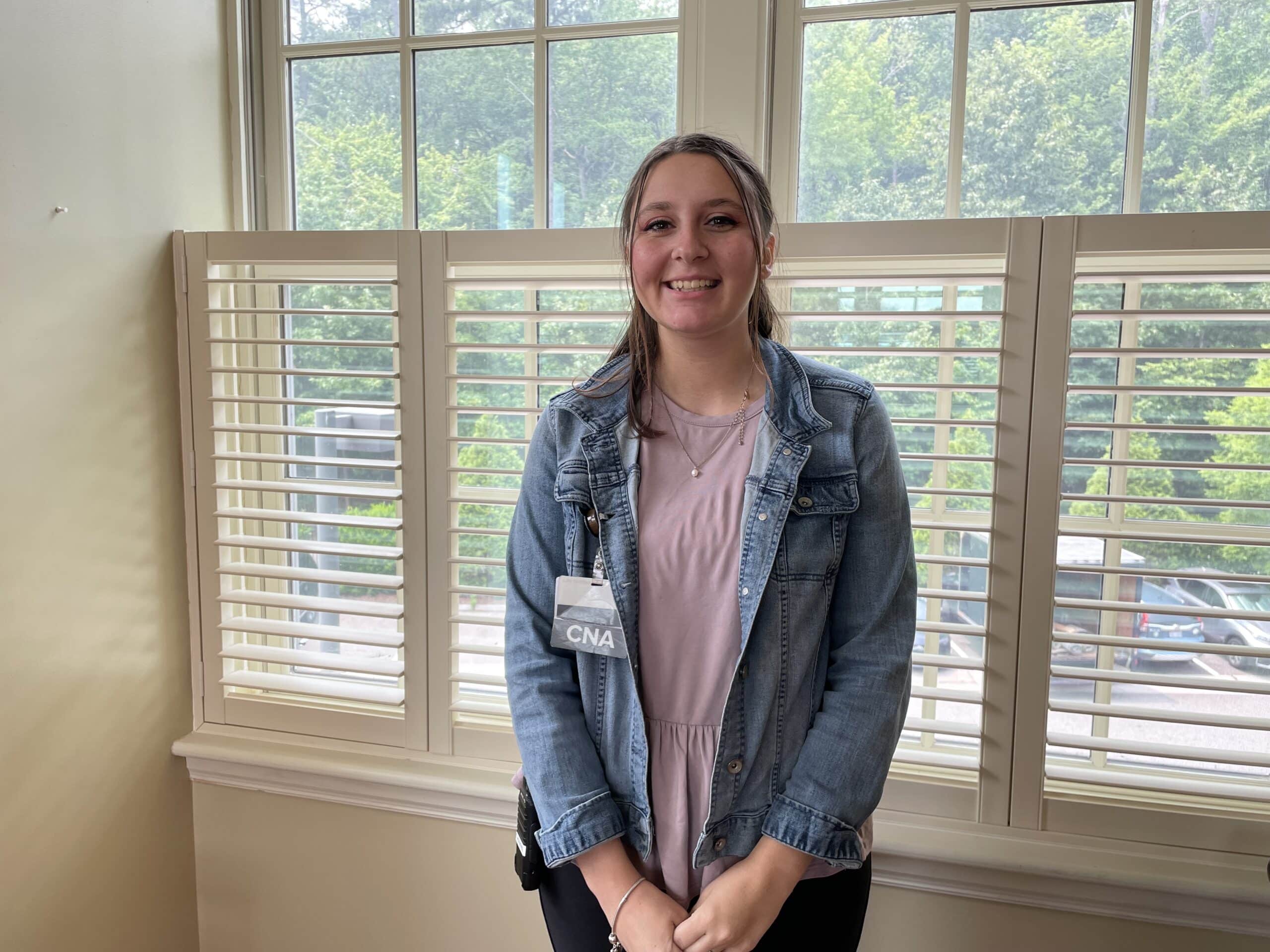 "In this role, I've had so many people help out with stuff. My teammates are always helping me and they always listen. That means a lot. Even in as a CNA, I know I'm coming in to work with people who will help me," she says.
Devyn says she uses everything she learned during the apprenticeship.
"The class has great teachers," she says. "Everyone at VHS has been such a good mentor and there's a lot of support through it all. The class is overwhelming, but worth it in the end."
CNAs are vital – "they glue down everything," she says. "They do so much for the residents and provide so much care and spend the most time with them. They know before anyone else if something is off or wrong."
Anjil Hicks, Northampton Nursing and Rehabilitation Center
Anjil was the valedictorian of her class that graduated in September 2022. She passed her certification exam on the first try.
She comes from a family of nurses and CNAs. She says listening to her family's stories encouraged her to go into healthcare as well.
"I've always been a caring person, genuine. So I wanted to be a CNA, but I didn't have the money to pay for the class. This was perfect," she says of the apprenticeship.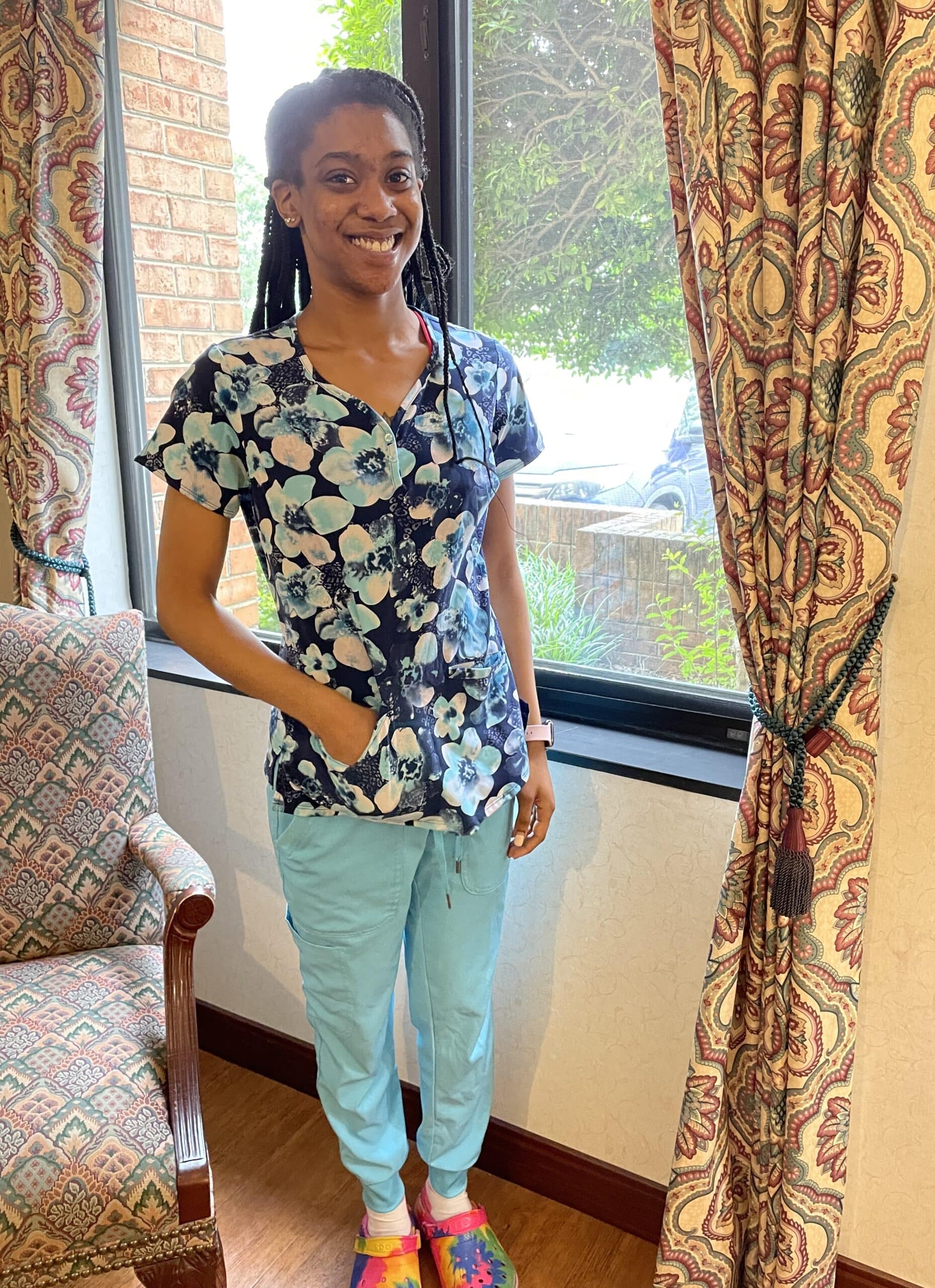 Anjil says the team at Northampton "is amazing" and is supportive.
"I love my residents. I love helping to take care of them," she says. "I love my team. Even from outside (the clinical staff), the administration is just so nice and supportive if you need it. This community, I love it."
She says her foundation came from the apprenticeship class.
"The instructors are the best teachers ever," she says. "They always made sure we understood the material before we moved on to something new."
Anjil says she is considering going back to school to be a RN. She knows the team at Northampton will have her back when she does.
Jazmine Martin, York Nursing and Rehabilitation Center
Jazmine was working as a patient care aide when she noticed how CNAs interacted with residents and the nursing team.
"I wanted to do more and I looked up CNA classes and saw the one offered by VHS," she says.
She graduated the class in September 2022. Jazmine says the job is "always a learning experience – there's always something new." She gets support and guidance by her teammates at York and The Hamilton Assisted Living.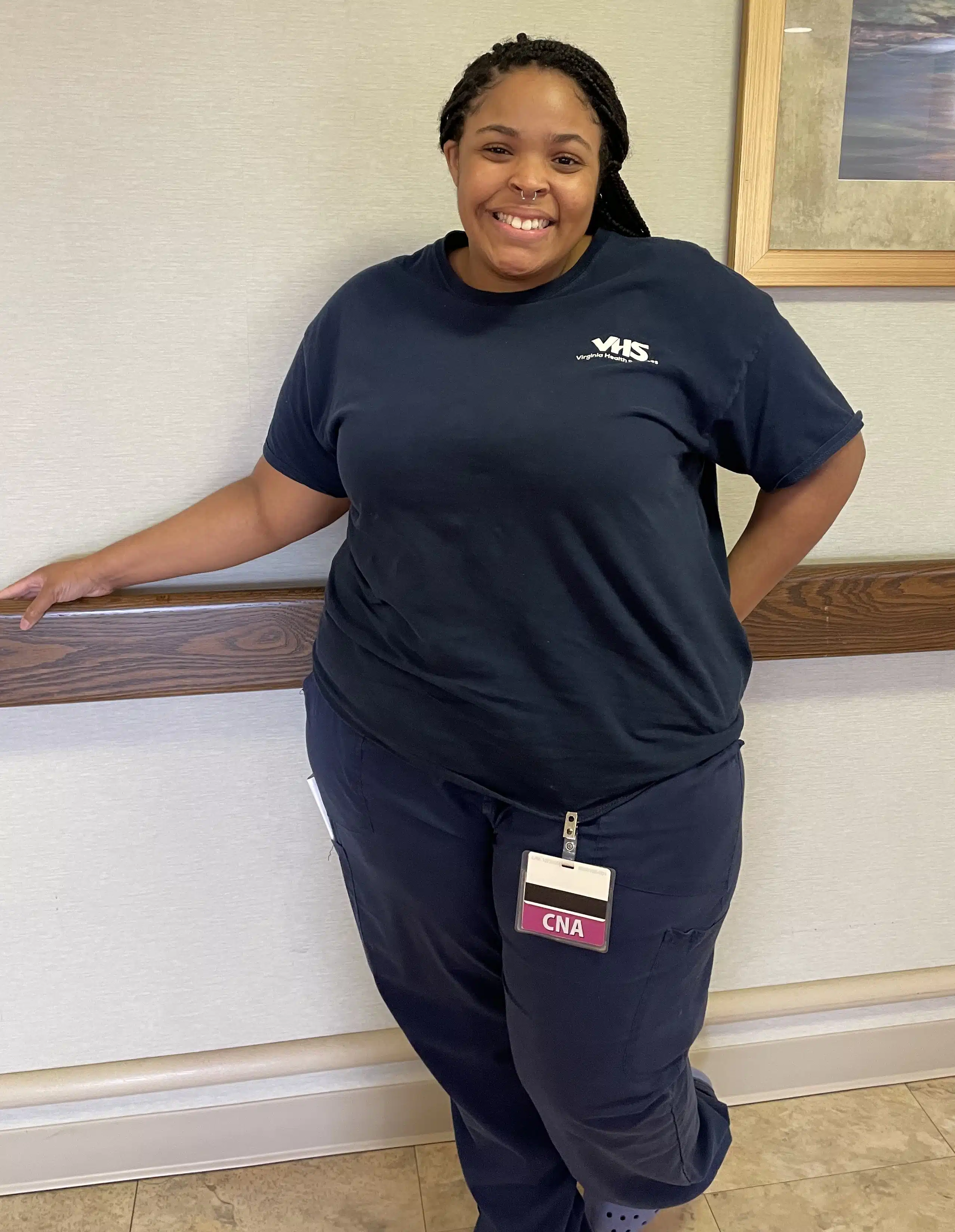 She says she was drawn to senior care after seeing how much help her grandparents needed as they aged.
"I just fell in love with older people," she says.
Jazmine plans to enroll at ECPI to gain her RN license.
"My son makes me want to continue on. I want to push myself to do more for myself and him," she says.
Her advice to new apprentices: "Always put the residents first. They can tell you, if they're able to, but put their thoughts in mind. They know when you are around."
Laurinda Palmer-Yearby, James River Nursing and Rehabilitation Center
Laurinda – she's called Palmer on the floor – completed the CNA class in February 2022. She's primarily been on the Warwick unit at James River since graduation.
She worked as a CNA while living in New York City and went through the apprenticeship class to get certified after moving to Virginia. There are different rules and regulations each state follows.
"I was always going to be a CNA," she says. "My mother, sister and aunt are nurses. My grandmother was a CNA. My family has a lot of nurses and doctors in it and I was always going to be in healthcare."
She and her apprenticeship classmates remain tight, texting one another to keep in touch. She also likes working at James River.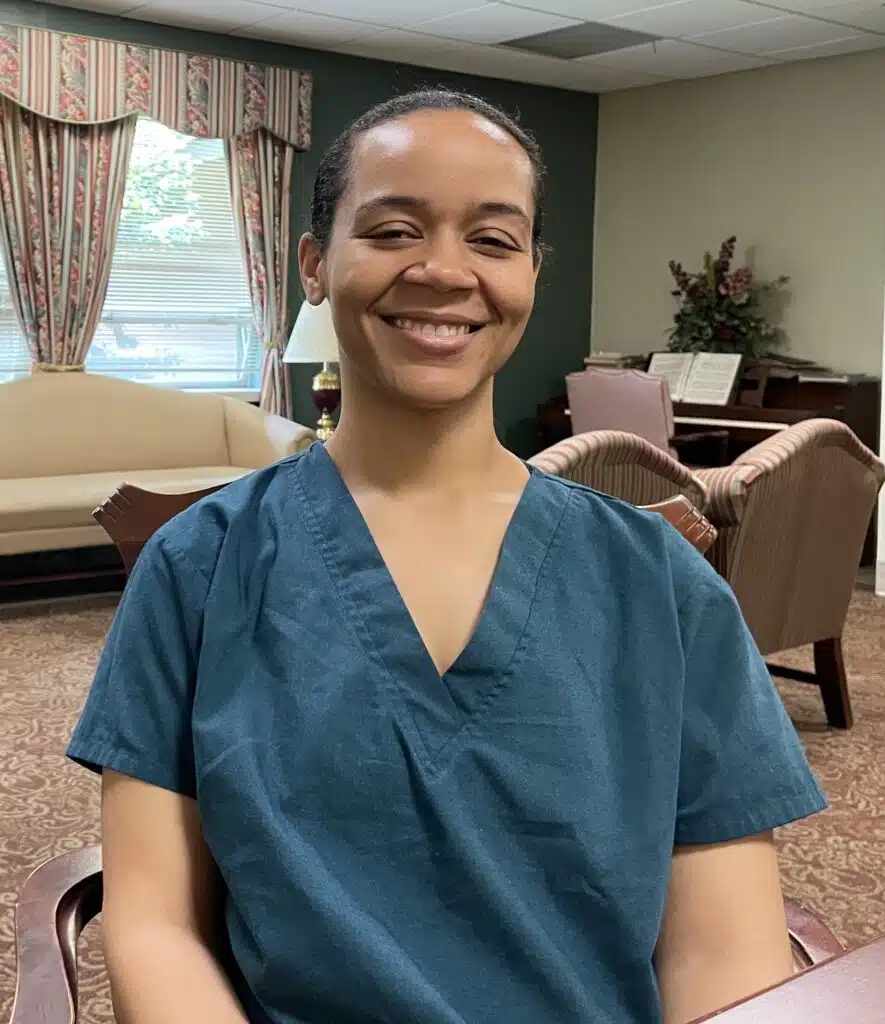 "I like there to be camaraderie on the floor. If I ask questions here, I'll get an answer the best I can. Most of the time we do pretty good. We learn from one another," she says.
She is back in school at Virginia Peninsula Community College (formerly Thomas Nelson) to be a patient care tech, which is an advanced-level CNA. Laurinda says you learn more about how to evaluate a patient, like therapy does. She plans to have it completed by the end of the summer.
"Being a CNA is a little more personable. In a hospital, you don't get to know the patients. … You don't come here looking for a relationship with anybody, but you realize they really enjoy having you around to talk to them and to have you help them get ready for the day and attend activities," she says.
"I love the energy the residents have to give."
Join our team
Our applications for the apprenticeship program are available at vahs.com/apprenticeship. We also have openings for CNAs at all of our nursing and rehabilitation centers and for our home and community-based services. Visit vahs.com/careers for more.