Six members of the apprenticeship class graduated from Care Assistants to Nurse Aides during a ceremony held Friday, April 28, 2023, at The Arbors Independent Living.
A crowd of friends and family joined the graduates to celebrate their achievement, along with members from the Virginia Health Services corporate office in human resources, Vice President of Operations Don Lundin and President/CEO Mark Klyczek.
The earn-as-you-learn apprenticeship program graduates Care Assistants to Nurse Aides and covers the cost of the state certification exam to be a CNA. They are hired as Nurse Aides in VHS facilities – this class will work at Northampton, The Newport, Walter Reed and York Nursing and Rehabilitation Centers – and will undergo reviews with the team at the education center to prepare for the state exam.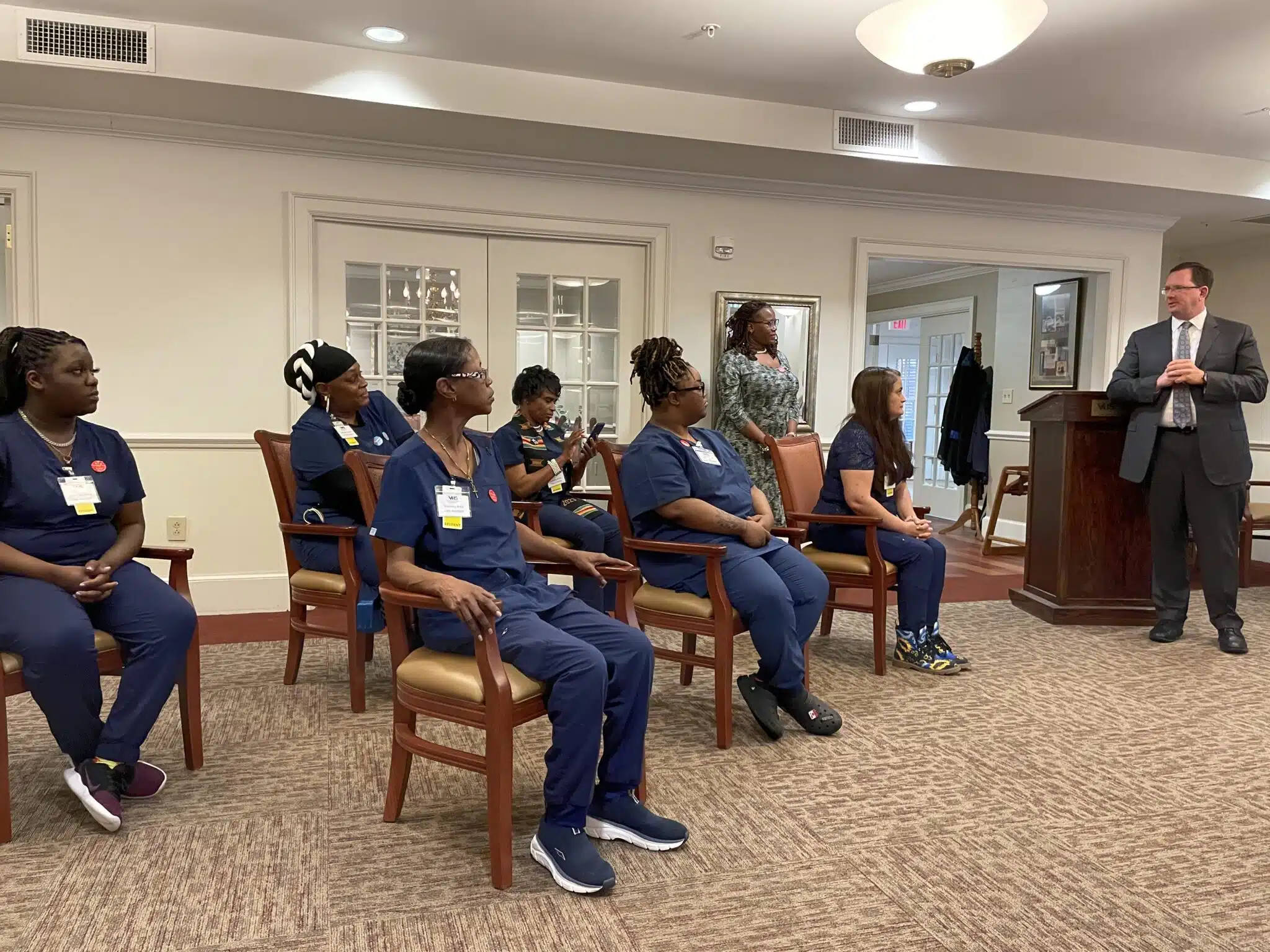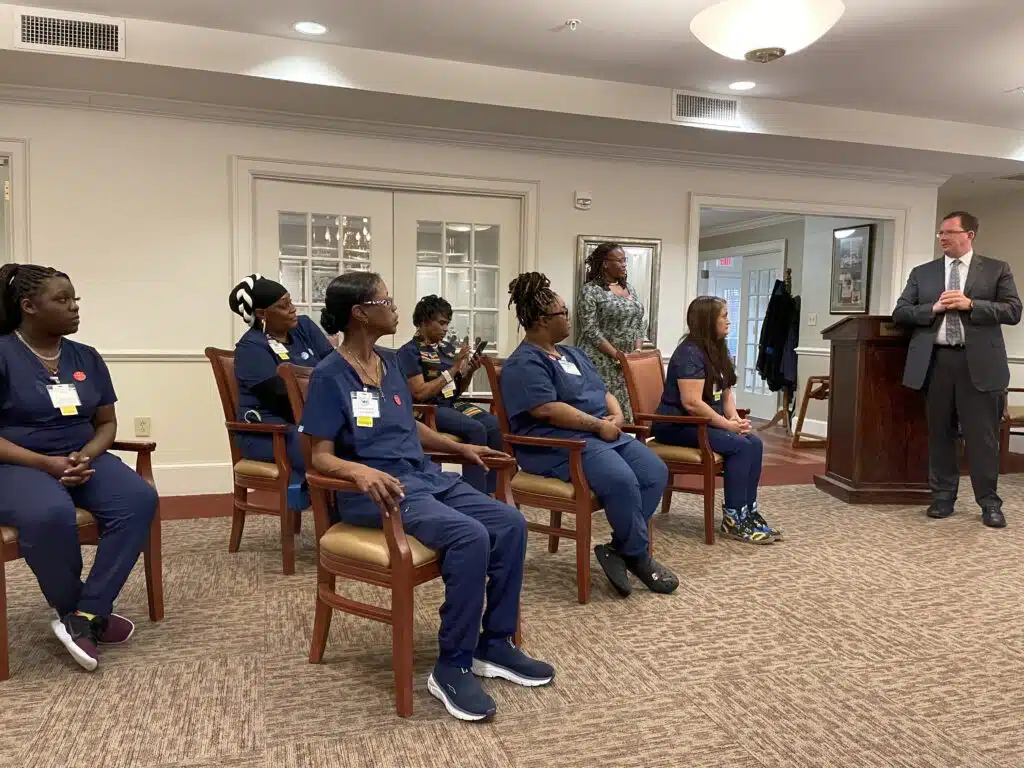 Mark welcomed and congratulated the class.
"Graduation is always a fun thing to do. It's the first step in your career in healthcare," he said. "We want to help you keep moving on in patient care."
Director of Education and class leader Princess Henderson, RN, added: "It's only up from here!"
The graduates
The six members of the class attended what instructor Nora Gillespie, RN, calls "CNA bootcamp." They learned 22 skills and took 14 tests over the course of six weeks.
Nora and Princess praised the graduates. Two members of the class are planning to enroll in nursing school.
Victoria Artis "rocked out clinicals," Princess said. She listens to her Residents.
Princess said Jadan Byrd worked hard every day and has a heart for this kind of work.
Elle Koller was a "ray of sunshine," according to Princess. The salutatorian made the Residents feel loved.
Nora recruited Elle during a feeding class at Walter Reed the Thursday before the class began. Elle was supported by her Walter Reed team and VHS to enroll in the class that following Monday. She plans to be in nursing school this summer.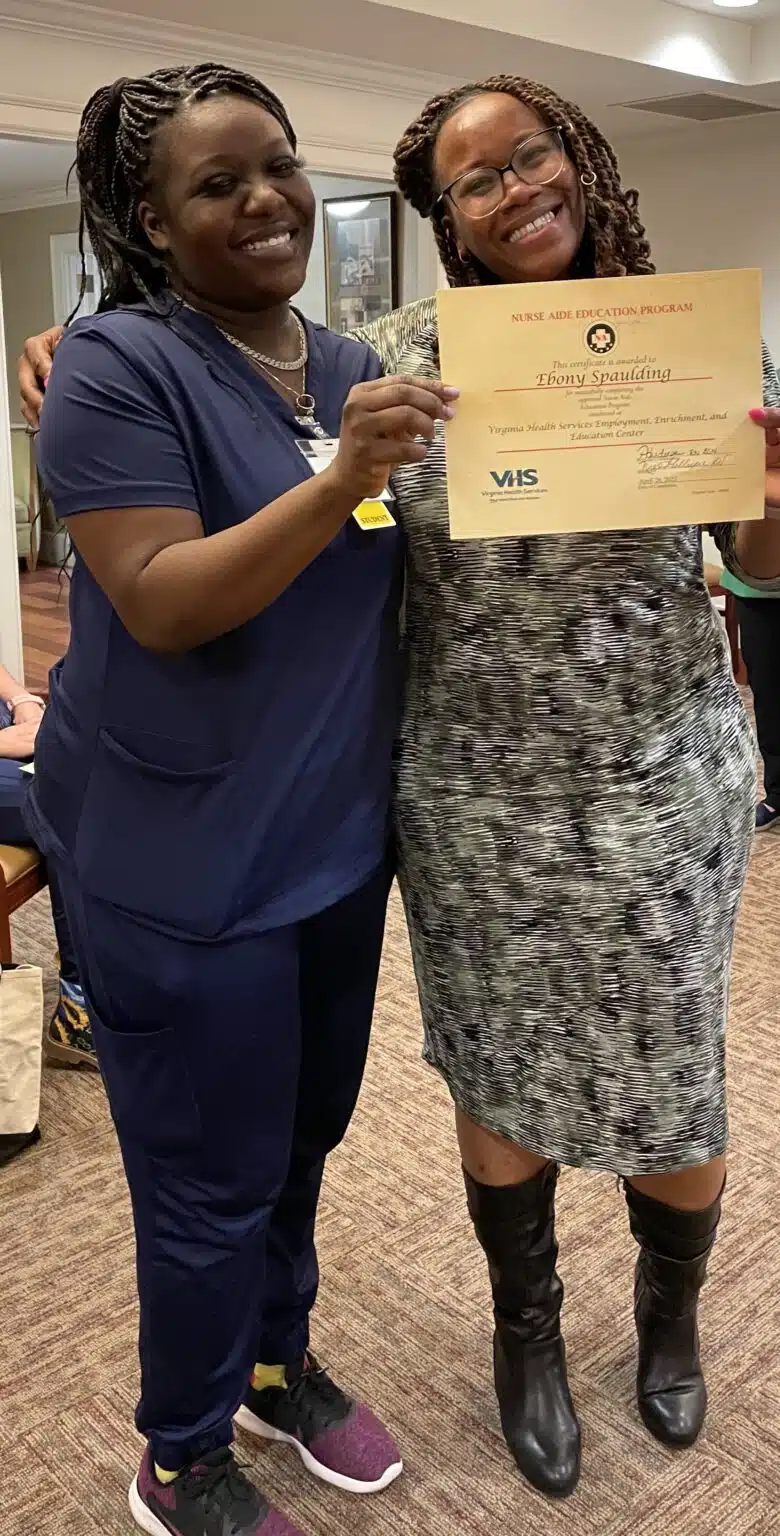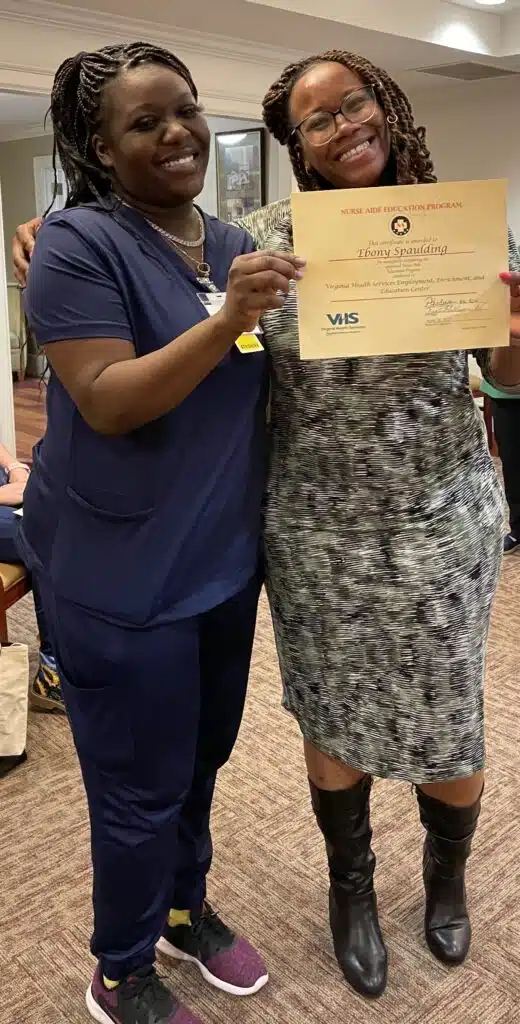 "Now you know you want to be a nurse because you know you can do it," Nora said of Ebony Spaulding.
"She's flexible; very go-with-the-flow," Princess said.
Valedictorian Tennille Warren is "calm and level-headed," Princess said. She wants to be a doula.
Michelle White, who was awarded the clinical superlative for mastering blood pressure by Princess, "places her focus on the Residents," Nora said.
Michelle created a sash for her friend Tennille to wear while giving her valedictorian message.
"I want to thank my teachers for pushing me to keep going," Tennille said. She plans to enroll in classes to further her nursing education at ECPI.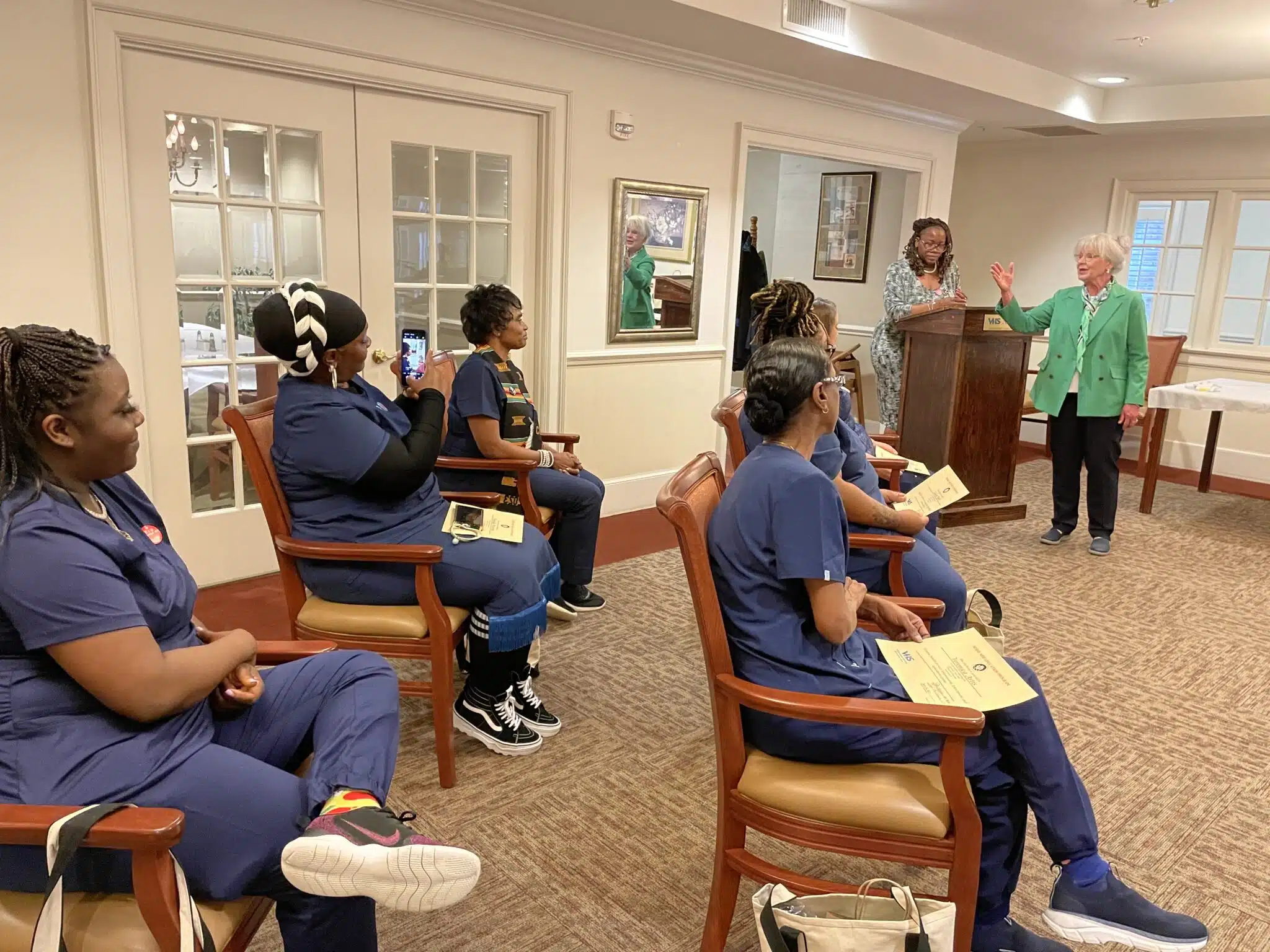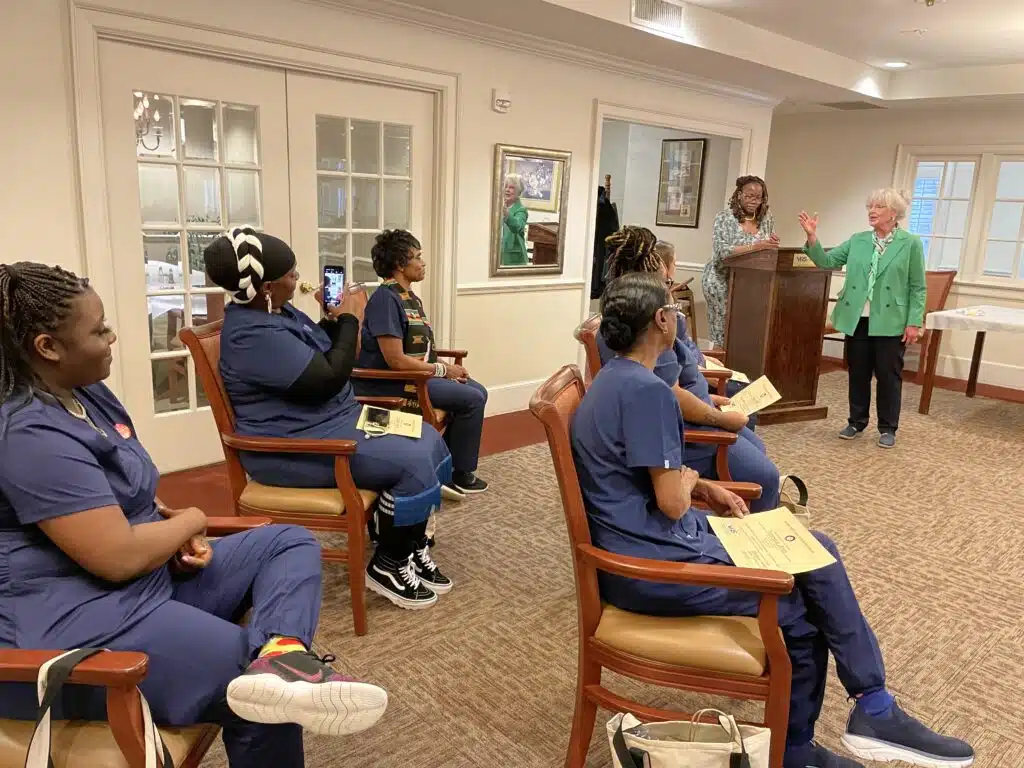 The program
"We want our students to be successful," Nora said to close out the ceremony. "Princess and I look for where we can reach you to make you the best you can be. You've got to have heart and care about what you do. We're very proud of what you've accomplished."
Princess said the class came together to get one another across the finish line.
"I'm proud of your team work," she said.
Apply to be an apprentice
Our next class of apprentices start May 15. Applications for the July class will open in June and are available online at vahs.com/apprenticeship.