Virginia Health Services is shining a light on our team members. We want to spotlight the roles our team members play to support individuals to live their best life and showcase the VHS culture. With National Nurses Day on Friday, we are spotlighting VHS Home Health Care nurse Tia Hunter.
Tia Hunter heard about VHS Home Health Care from a friend.
She had done some one-on-one visits with patients as a certified nurse assistant (CNA), but hadn't conducted skilled visits.
A nurse since 2009 — she's getting ready to take her boards after graduating RN school with Medical Careers Institute — Hunter said she trusted her friend's suggestion to work together for VHS Home Health Care.
"I love it," Hunter says of working as an LPN with VHS Home Health Care for the past year and a half.
"For me, I like having that one-on-one with the patient. I'm not rushed; I have that time to focus. And I'm reachable to them."
Hunter said nurses see on average five to six patients a day.
Day in the life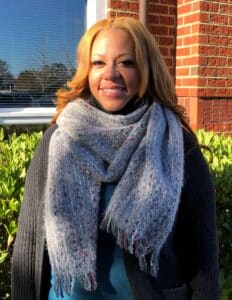 VHS Home Health Care serves the Peninsula, Gloucester and Southside. Hunter said where patients live factors into a day's schedule to account for the travel time.
She said she always has been drawn to senior care.
"I just love them. I think they're so cute. … My grandma passed and I wanted to know her so bad; I get that when I see my patients," Hunter said.
The culture at VHS Home Health Care is patient-based.
"For me, I like having that one-on-one with the patient," Hunter said. "I'm not rushed, I have that focus time, I'm reachable to them."
Team effort
Working with patients in-home pairs physical, speech and occupational therapists from VHS Rehabilitation with the clinical team at VHS Home Health Care.
"I think it's a great place to work," Hunter said. "… We have a good staff. (The clinical team) communicates well with the therapists with VHS Rehab. It's rare to find a team that blends this well as a whole."
The team comes together under the leadership of Cheri Brnich, Kelly Cofield and Donna Marchant-Roof, who is the executive director of VHS Home Health Care and Hospice.
"I genuinely just love our management," Hunter said of Brnich. "I've never really had a boss like Cheri. She genuinely cares about us and how we're doing, are we OK, even outside of work. … It's very rare you find a company that somebody cares about you as a person. She values us as employees."
The team of nursing staff, therapists, social workers and other individuals develop a care plan to return an individual to their best life.
"Aha moments"
Hunter takes pride in the "aha moments" that get the individuals she works with back to where they want to be. As individuals usually see the same team of clinicians, if there is a change in status, it can be determined quickly.
"When we're in the home, sometimes we can stop them from having something happen and could save their life," she said.
Calls, Google reviews and hearty thank-yous stay with you long after the home health care period ends, Hunter said. "It's so appreciated."
The quality of care and consistency of the team is also appreciated.
"Going into a home, sometimes even just 45 minutes, it changes their whole day," Hunter said. "They love it."
Join our team
We are hiring full-time LPNs and a full-time RN for our VHS Home Health Care team. For a full list of opportunities, visit vahs.com/careers.