We're celebrating National Volunteer Week by highlighting our communities' volunteers! Virginia Health Services thanks our volunteers for their time and dedication in supporting our team members and the individuals in our care to live their best life.
Coliseum
In any given month, Coliseum Nursing and Rehabilitation Center may host five or more church groups to provide services to the Residents. We're highlighting two during National Volunteer Week.
Ebenezer Baptist Church has been coming to Coliseum for about 20 years, according to Deacon Charles Stevens Jr. Minister Tracey DeBrew with Restoration & Faith Kingdom Builders non-denominational organization also comes once a month. They both conduct services at James River Nursing and Rehabilitation Center, in addition to others in the VHS family.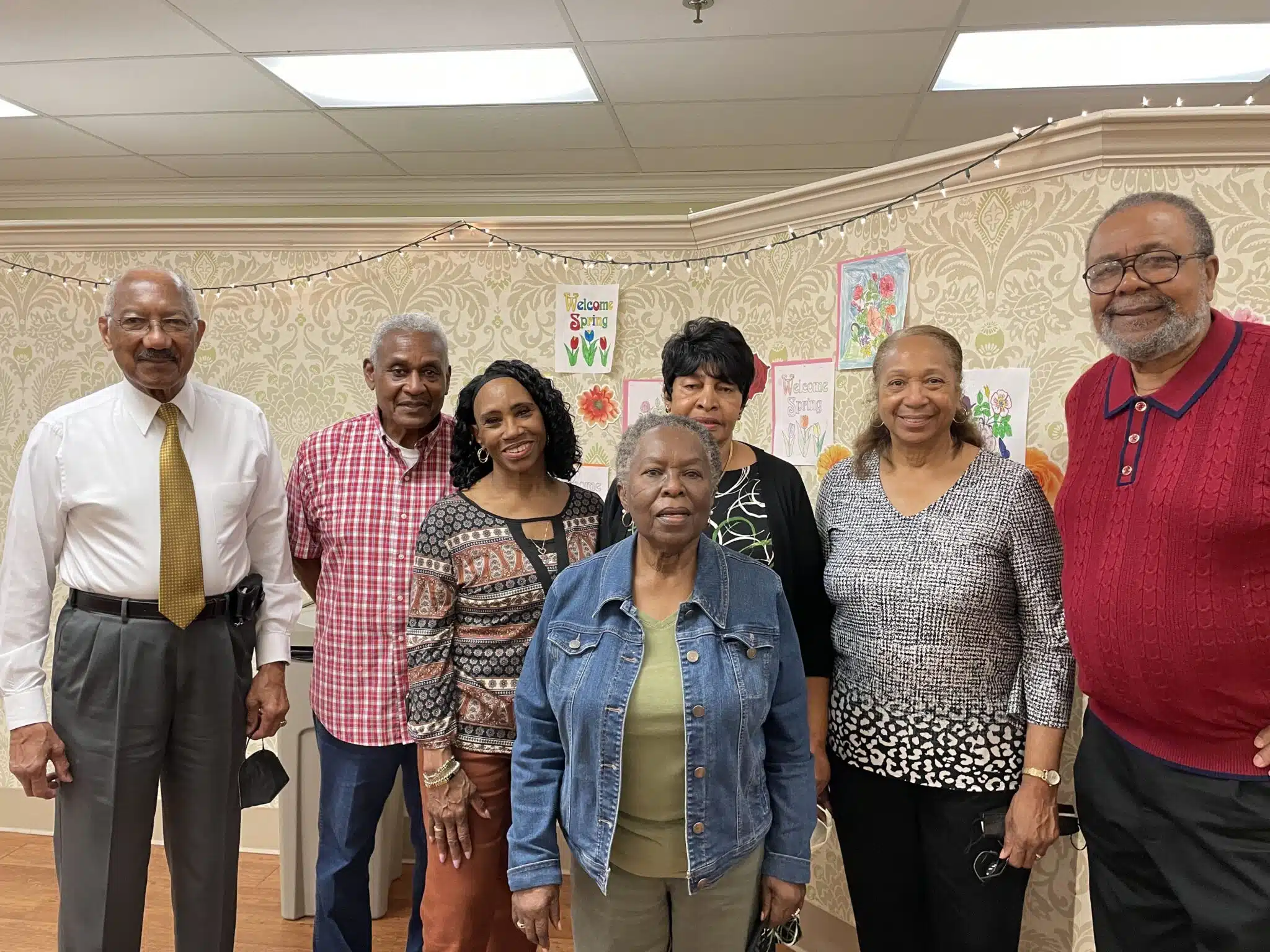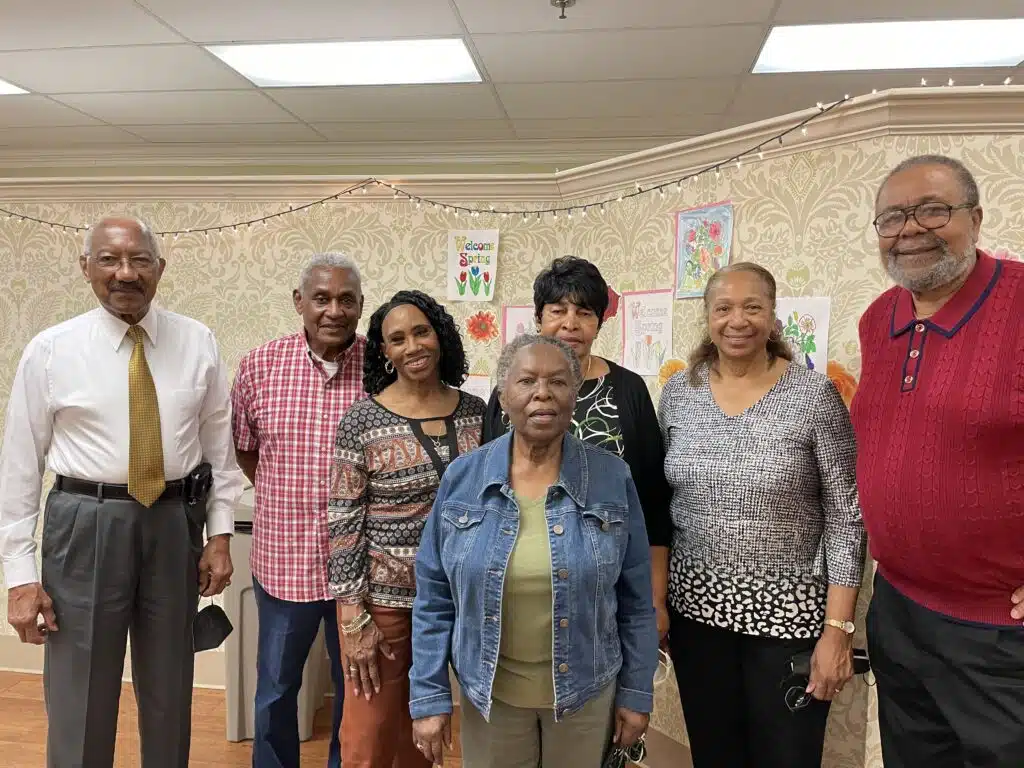 Deacon Charles joined Ebenezer in 1995 after retiring from the Air Force at Langley. He uses his military logistics background to coordinate the Missionary Outreach Ministry for the church. The group visits four nursing homes consistently each month. Sometimes the dance or puppet ministries also join them.
"This entire ministry just loves something that God has put on our hearts to do. No stopping now," he says. "We're doing what God has told us to do. We must go outside the church walls and carry the gospel to wherever we can go and be accepted. We're really accepted at the nursing homes. A lot of the Residents are drawn to a church service."
Minister Tracey was ordained in November.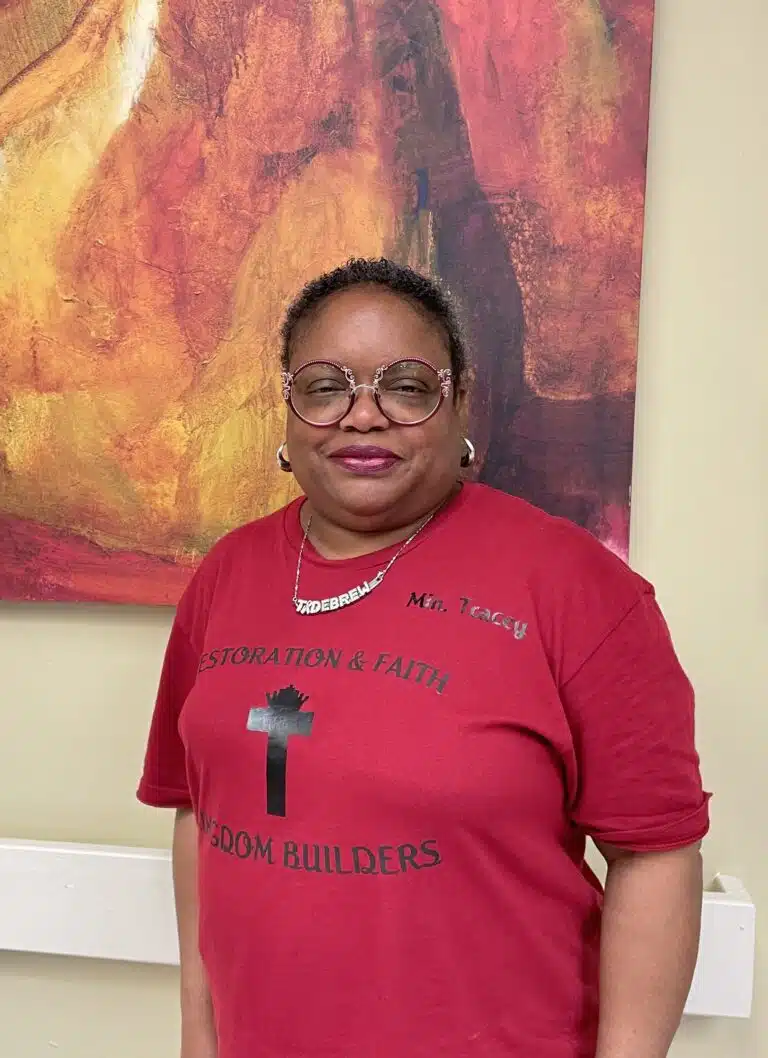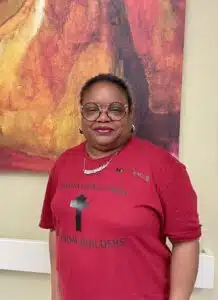 "I felt I was to go out in the community," she says. "I find it very heart-warming to be able to come out and talk to the Residents. A lot of them were constant churchgoers before they came here. … It's a blessing, not only for me, but for them."
She says she provides her phone number in case something happens or they need one-on-one prayer time.
"I will come and pray with the family, no matter the time of night, when someone is transitioning," she says. "I will travel wherever it is needed."
They both said Residents are receptive to services.
"I come in with a lot of energy and I have three other people with me. We put on music, we dance, we move. It gets exciting, it gets fun," Minister Tracey says. "I love the Residents. Sometimes I'll just come and visit them throughout the week. I listen to them. I'm accessible. I learn so much from these people."
Adds Deacon Charles, "We get our enjoyment when God manifests in this place."
Lancashire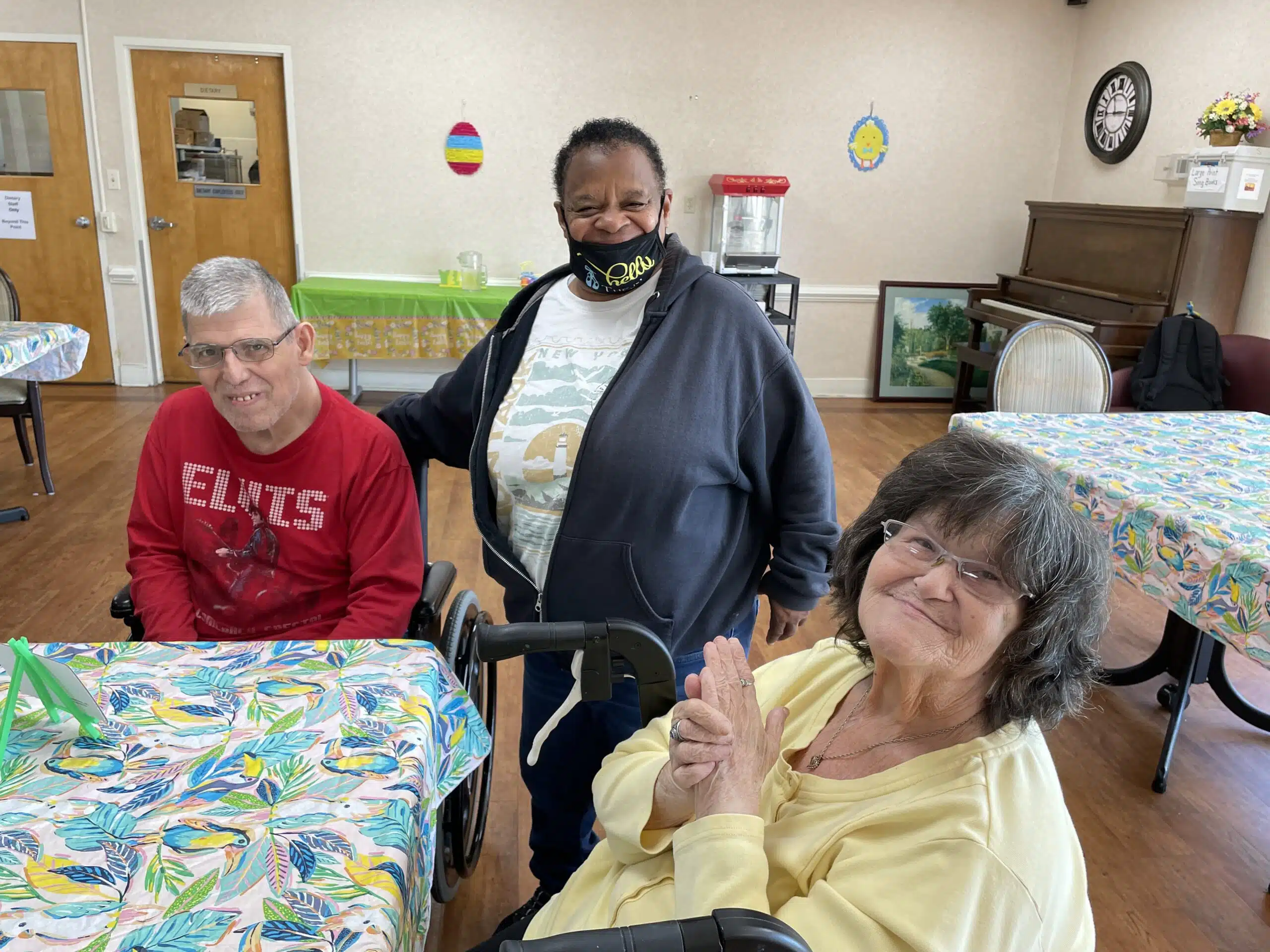 Joyce Taylor couldn't stop coming in to work. After spending 14 years in the dietary department at Lancashire Nursing and Rehabilitation Center, she still can be found at the facility volunteering several times a week. She lives across the street and joins the Residents for activities such as crafts, Bingo and outings.
"I just love being with the Residents," she says.
The Residents love having her nearby too.
The Hamilton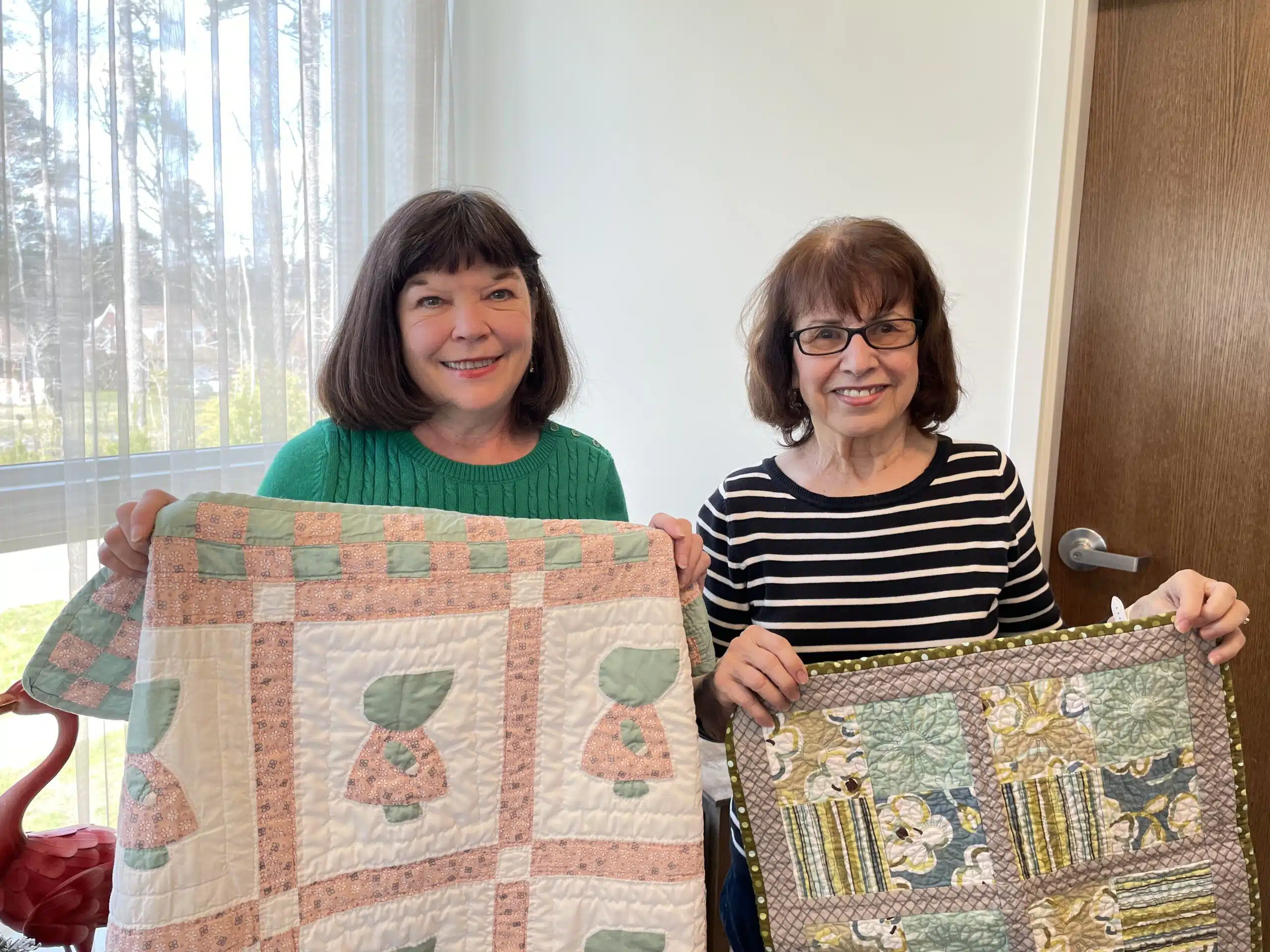 Gala Damato loves to quilt. And for the past year, she has been sharing her skill and time with the Residents at The Hamilton Assisted Living.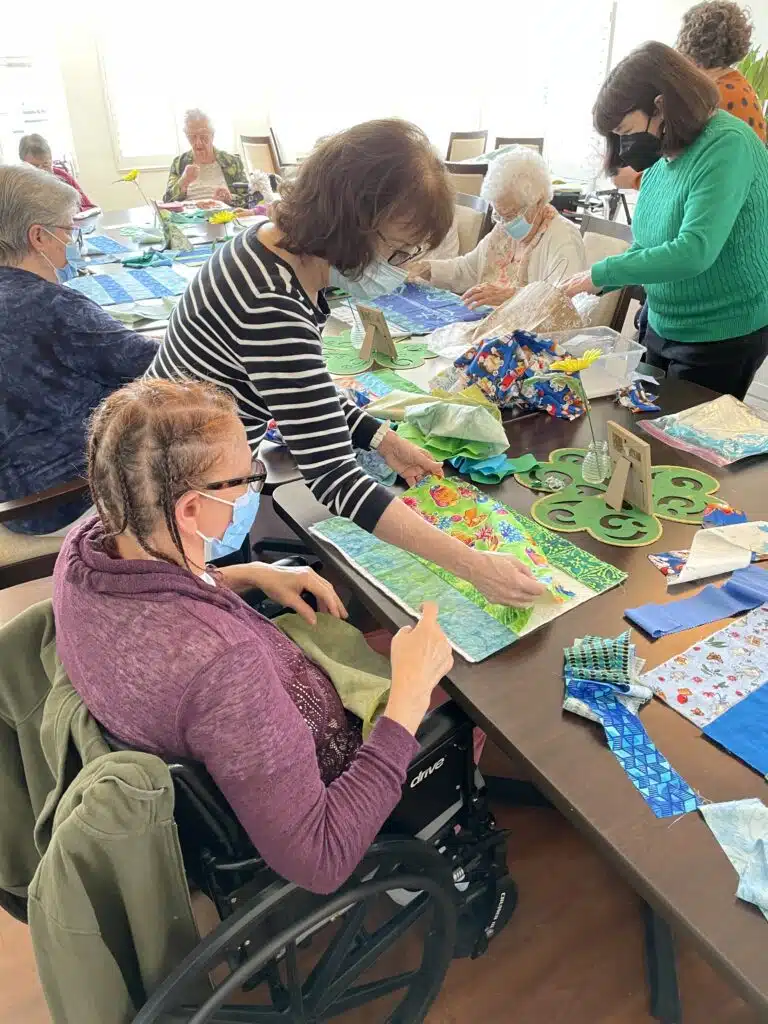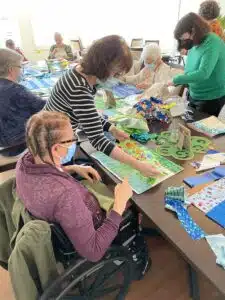 She comes from a family of quilters, including her mother and grandmother, and is in two guilds. She is the service project co-coordinator in one of the guilds.
"Quilters like to give back. … We just find places that will take them. A few of these ladies are quilters or were quilters," she says.
She and her friend Pam come monthly and work with the Residents on different projects. It's one of the best attended activities. The first time she visited, she says she brought a few quilts to talk about. It was so popular, activity director Kirstie Saunders suggested more hands-on visits.
The Residents designed placemats for their rooms as the March project. Some fabrics will help spur memories; other fabrics are colored themed to season, Gala says.
"If you have a talent to share, here's the place," Gala says. "My mother was in an assisted living in Oklahoma; she would have loved something like this."
She and her husband moved to Hampton about 20 years when he was in the Air Force. He retired from Langley AFB in 2007. Gala says she substitute teaches and got serious about quilting in 2011.
The Huntington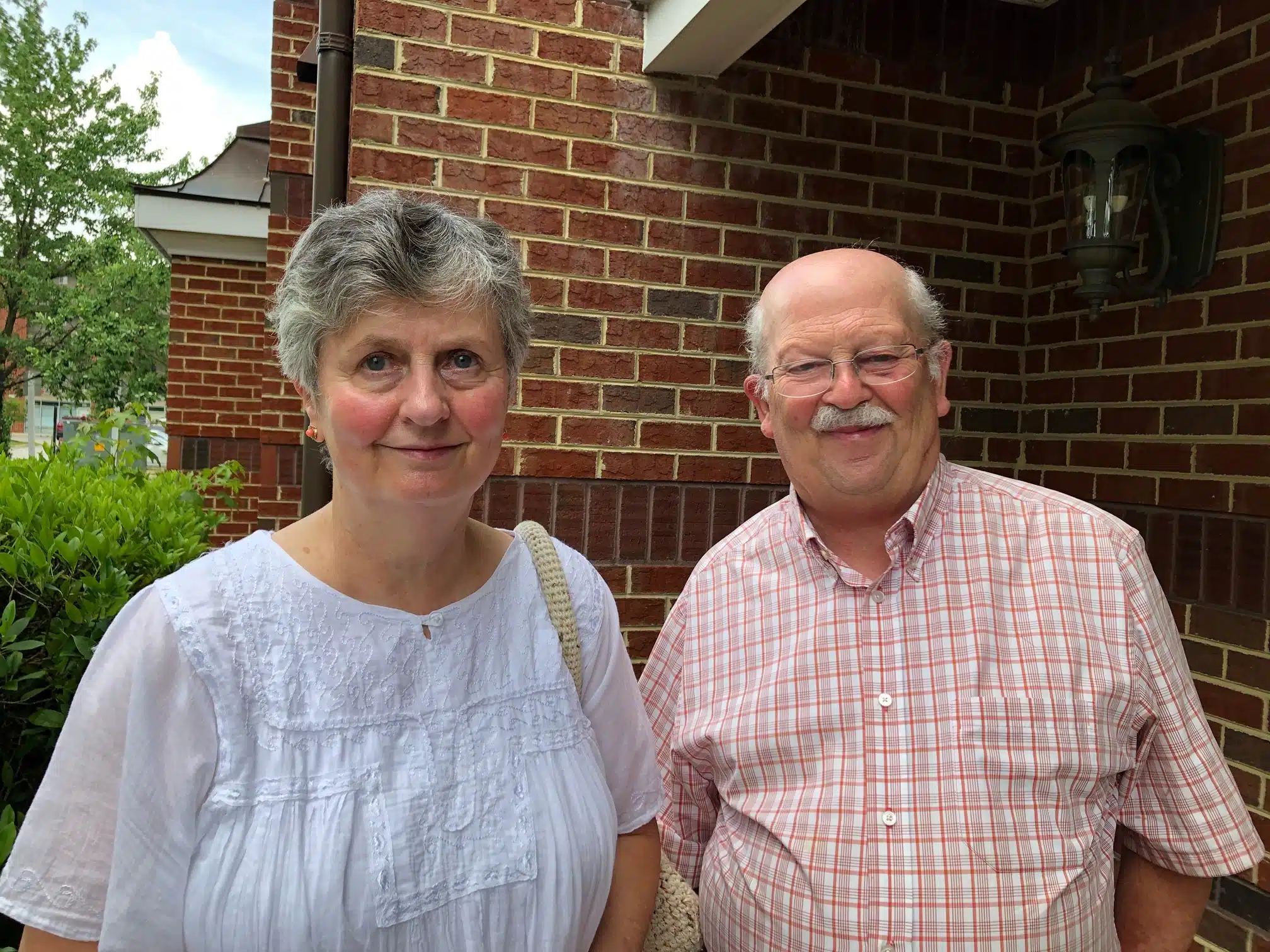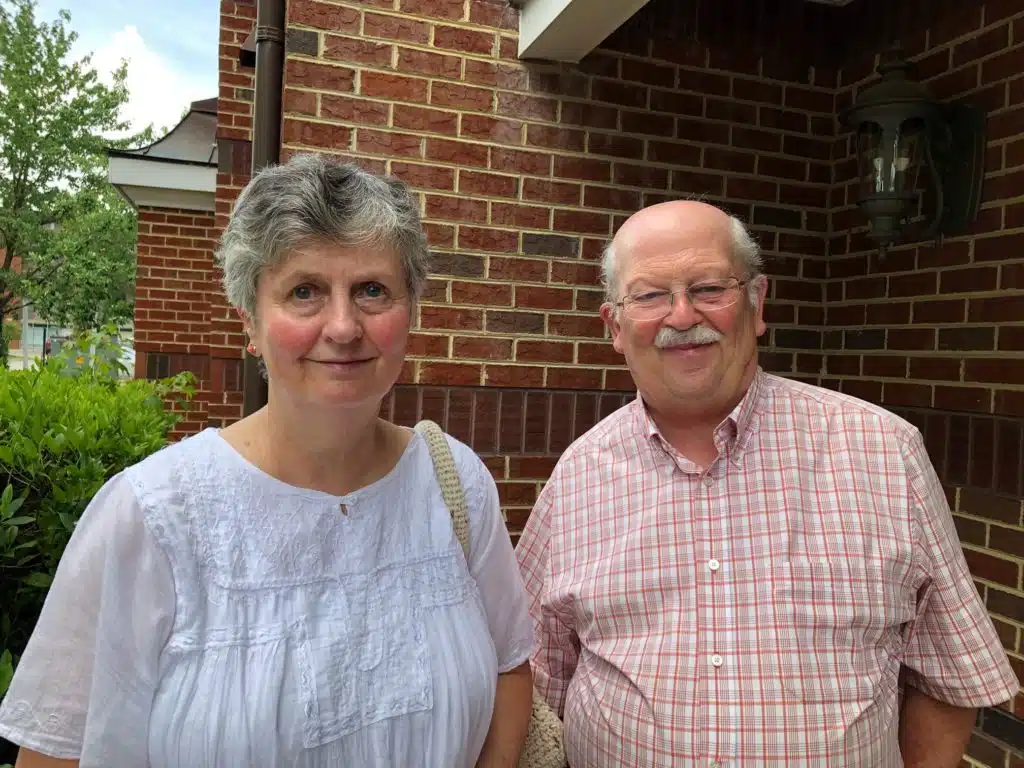 Jerry and Martha Dodson volunteer almost daily in the community. One Monday a month, you'll find them doing crafts with the Residents at The Huntington Assisted Living.
The Dodsons are no strangers to volunteering. They have been active in several organizations, including with Virginia Health Services communities, for more than 40 years.
They deliver Meals on Wheels and volunteer with their church, the Women's Club of Hilton Village (Jerry's an honorary member), an art studio, and on Saturdays are at the farmers market in Hilton Village handing out juice and crafts for kids.
During the holidays, they visit nursing homes and senior living communities dressed as Mr. and Mrs. Claus, distributing gifts and cards to the Residents. (Jerry also can be found in the spring as the Easter Bunny.)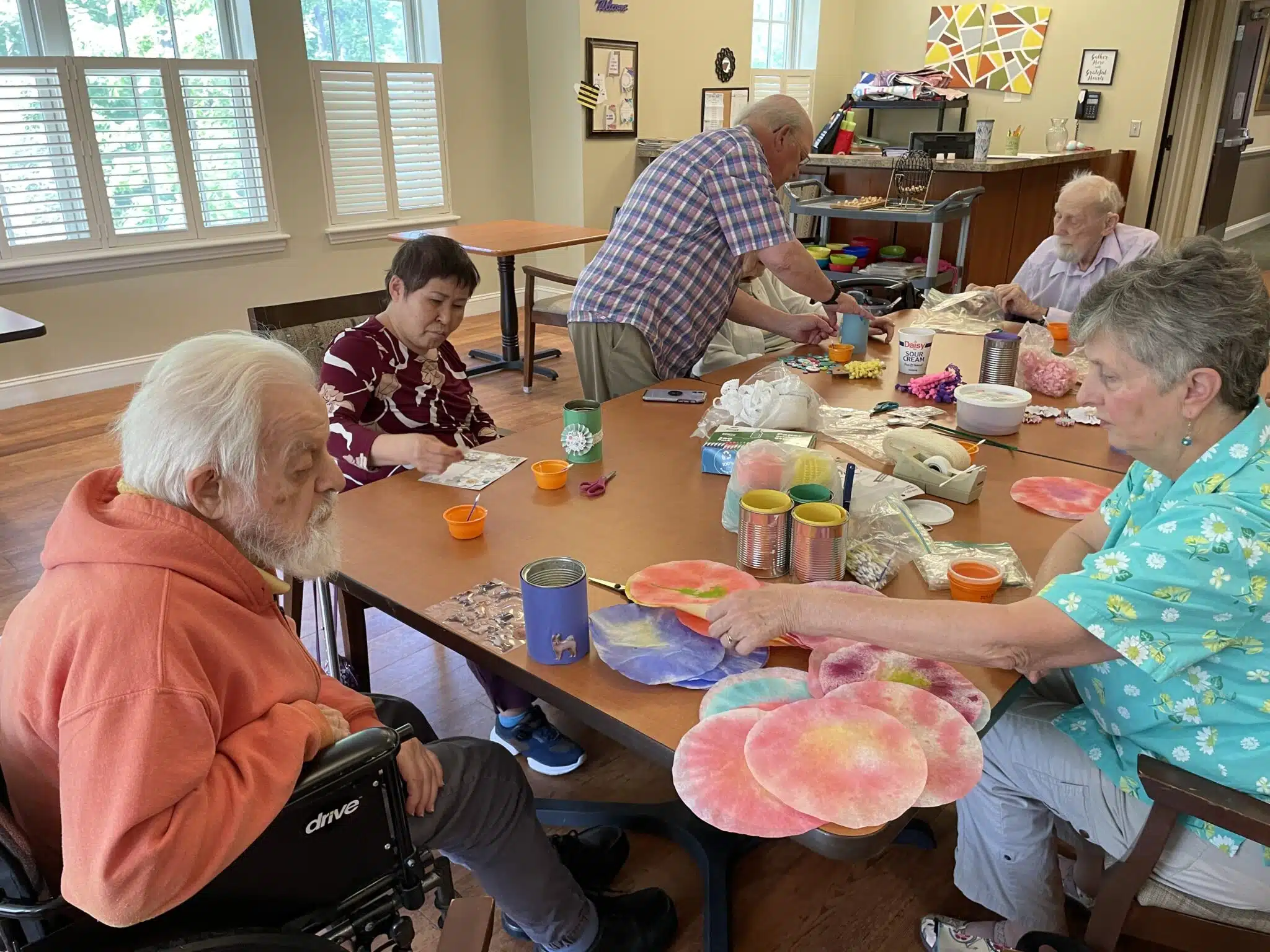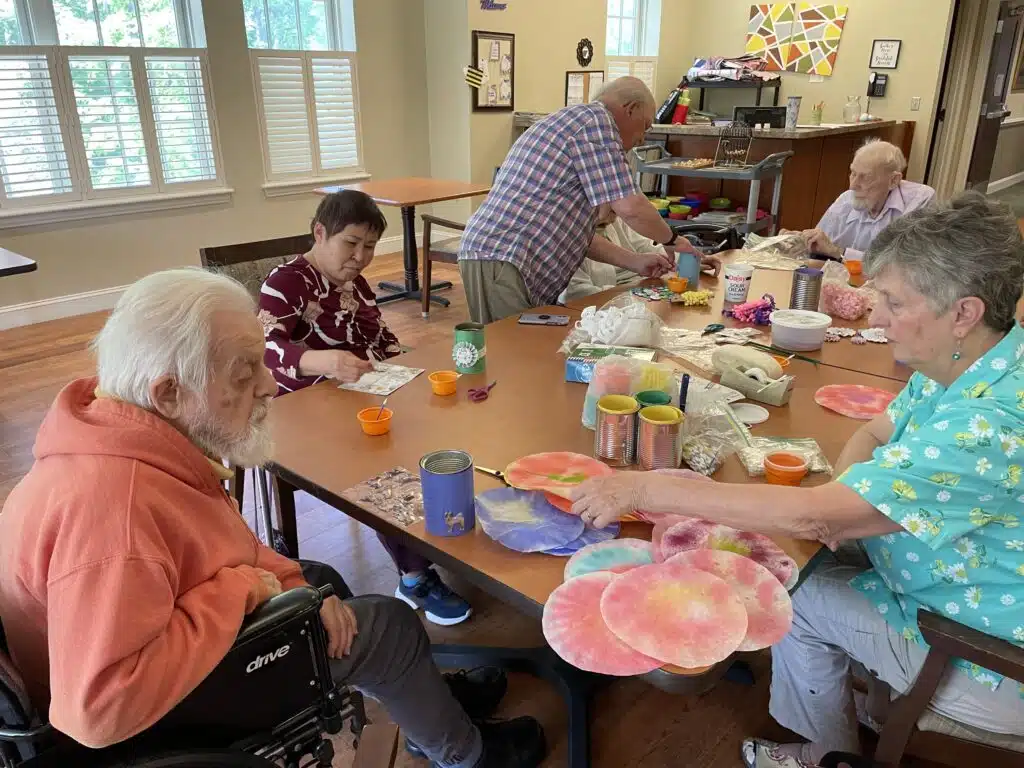 They say volunteering gives them purpose.
"Volunteering doesn't mean you have to spend a lot of time or money," Martha said.
There are all kinds of ways you can volunteer, whether it's by creating a card, volunteering to help with a craft project, or making a phone call.
"We fill in the gaps," Jerry said. "We have so many relatives – and that's OK, we don't have any children – because Residents thought we were family."
Martha added, "You just develop relationships and connect with folks."
Walter Reed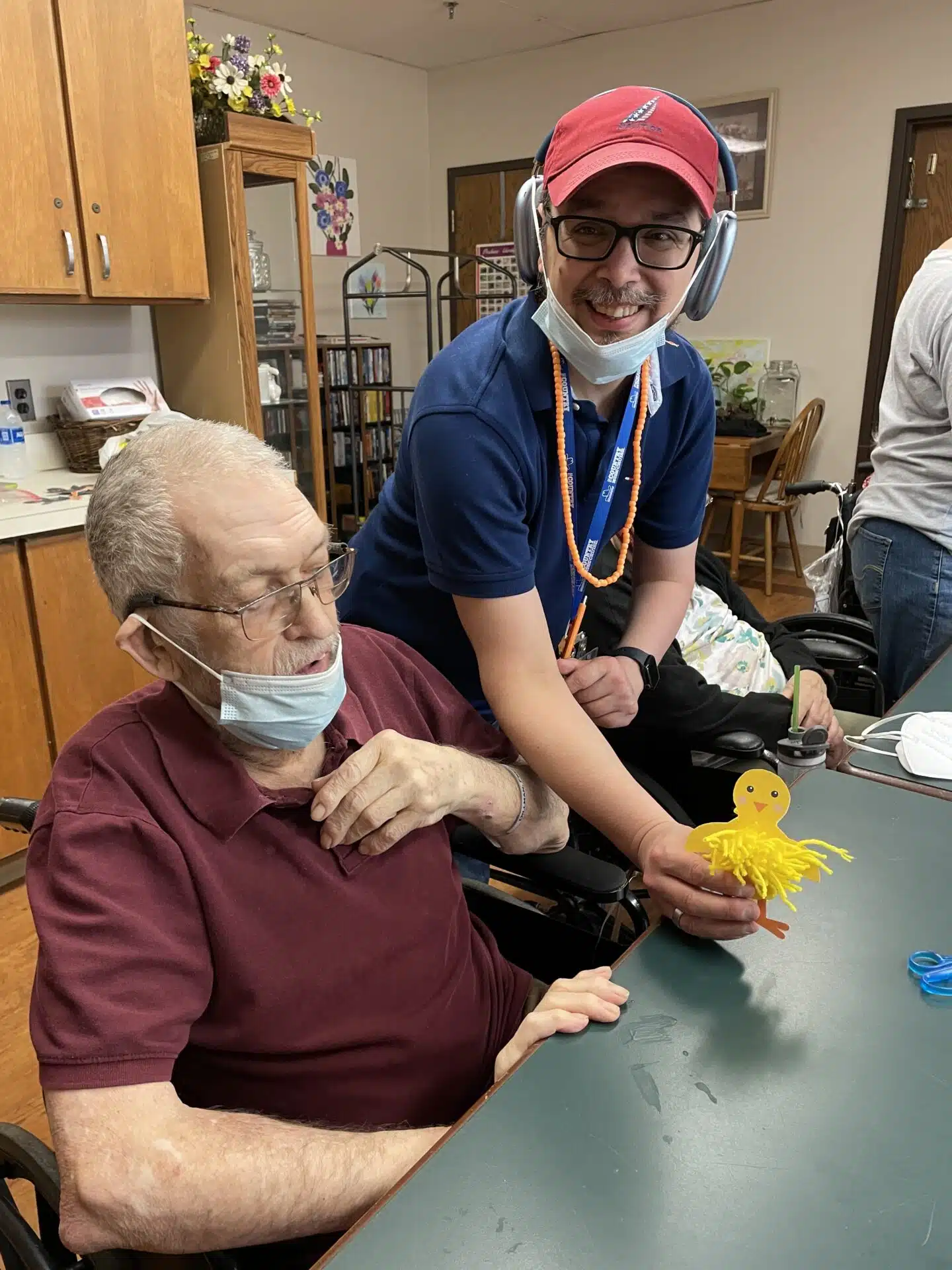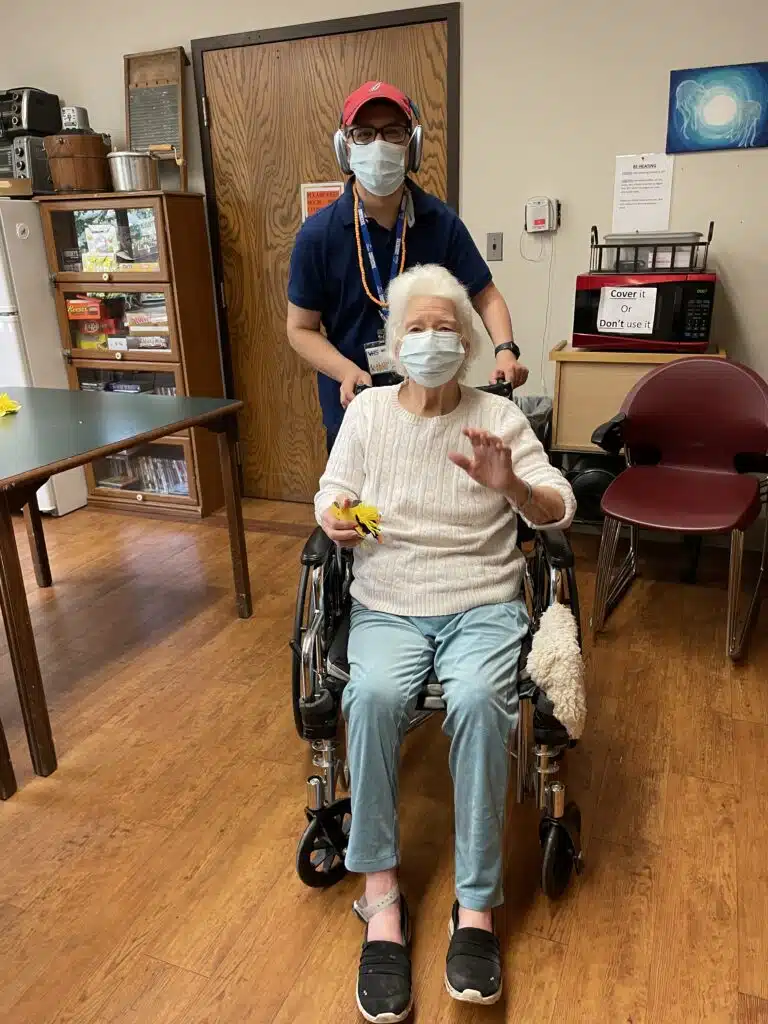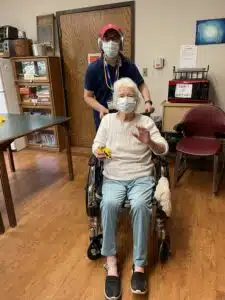 Ray Agtay has been volunteering at Walter Reed Nursing and Rehabilitation Center for almost 20 years – beginning shortly after he and his mother moved to Gloucester. A recognizable face around the facility, he completely has embraced the role of a team member in a volunteer capacity, coming three days a week.
"I just like helping people," he says. "I like spending quality time with them."
He helps mostly with activities and helping Residents get to and from their rooms around the facility. He helps with crafts and set up an audio/visual cart for Bingo so all the Residents can see and hear what's being called.
"I love the people here," he says. "The Residents and staff always commend me on my positivity and outlook. I don't get paid, but I consider myself part of the staffing."
Volunteer with VHS
All of Virginia Health Services' communities are happy to accept volunteers.
Church and youth groups, school service organizations, Greek life and other college organizations, and individuals are needed to help facilitate activities and provide social interaction and support to Residents.
VHS Hospice also is looking for volunteers interested in assisting those in end-of-life care and their caregivers.
Contact the community nearest you to apply and discuss options with our team.
Volunteer locations
Address: 305 Marcella Road, Hampton, Virginia 23666
Phone: 757-827-8953
Contact: Shawn Hill, Activities Director
Address: 113 Battle Road, Yorktown, Virginia 23692
Phone number: 757-243-8559
Contact: Kirstie Saunders, Activities Director
Address: 11143 Warwick Blvd., Newport News, Virginia 23601
Phone: 757-223-0888
Contact: Devyn Hotop, Activity Director
Address: 540 Aberthaw Ave., Newport News, Virginia 23601
Phone: 757-595-2273
Contact: Shawn Hanberry, Activity Director
Address: 287 School St., Kilmarnock, Virginia 22482
Phone: 804-435-1684
Contact: Amber Watson, Activity Director
Address: 11141 Warwick Blvd., Newport News, Virginia 23601
Phone: 757-595-3733
Contact: Jamel DeCosta, Activity Director
Address: 1028 Topping Lane, Hampton, Virginia 23666
Phone: 757-826-4922
Contact: Charlene Craig, Activity Director
Address: 7602 Meredith Drive, Gloucester Courthouse, Virginia 23061
Phone: 804-693-6503
Contact: Julie Boothe, Activity Director
Address: 113 Battle Road, Yorktown, Virginia 23692
Phone: 757-898-1491
Contact: Mary Garrity, Activity Director
Phone: 757-663-6276.
Contact: Ariane Minette, social work and volunteer coordinator